Engage with Peers from Europe's Leading Boardrooms
The St. Gallen Board Retreat was born out of a joint vision by the University of St.Gallen and Egon Zehnder: what would it take to bring together leading board members to engage in an intense and candid dialogue about the key challenges facing their board and organisation? In summer 2018, Chairs and senior non-executives from Europe's largest companies turned this vision into success: board peers, thought-leading faculty and members of our high-calibre Advisory Board spent a reflective weekend together at the inaugural Retreat to exchange insights on effective board practices and solutions.

In June 2019, the St. Gallen Board Retreat will continue in its pursuit of creating memorable experiences, novel insights and new relationships for members of Europe's boardrooms. The Retreat features a dedicated, interactive and highly customised 48-hour programme: dedicated, in the sense that it will have a highly selective admission policy, thus resulting in an intimate rather than a large-scale event; interactive, by enabling ample peer-to-peer communication among attendees; and highly customised, since the programme's content will be designed based on the input of participants in the run-up to the Retreat.

The St. Gallen Board Retreat offers a unique peer exchange platform to cross-fertilise perspectives and draw conclusions on today's paramount boardroom challenges.

Learn more about how the St. Gallen Board Retreat cultivates effective board practices and solutions:

The Benefits of Participating in the St. Gallen Board Retreat

Engage with peers from Europe's most important boardrooms
At the St.Gallen Board Retreat, you will meet your peers from boardrooms across Europe to discuss, reflect on and resolve the challenges facing your board. Selective admission criteria will ensure that you meet relevant peers who can offer novel perspectives on your situation.
Get inspired by personal experiences and hear new evidence-based insights
Learn from the experiences of our Advisory Board members, who will share their personal stories on how they overcame major obstacles. In addition, you will benefit from the governance expertise of leading academics and hands-on boardroom insights of seasoned consultants.
Obtain tailored solutions that will generate a positive impact in your boardroom
All the Retreat's content will be tailored to the challenges facing your board. Before the programme, we will ask you for your specific priorities and expectations. Based on these inputs, the St.Gallen Board Retreat will be designed to address the challenges that are most relevant to you.
See how attendees have experienced the St. Gallen Board Retreat:

Content and Course Structure
Download the full PDF for more information: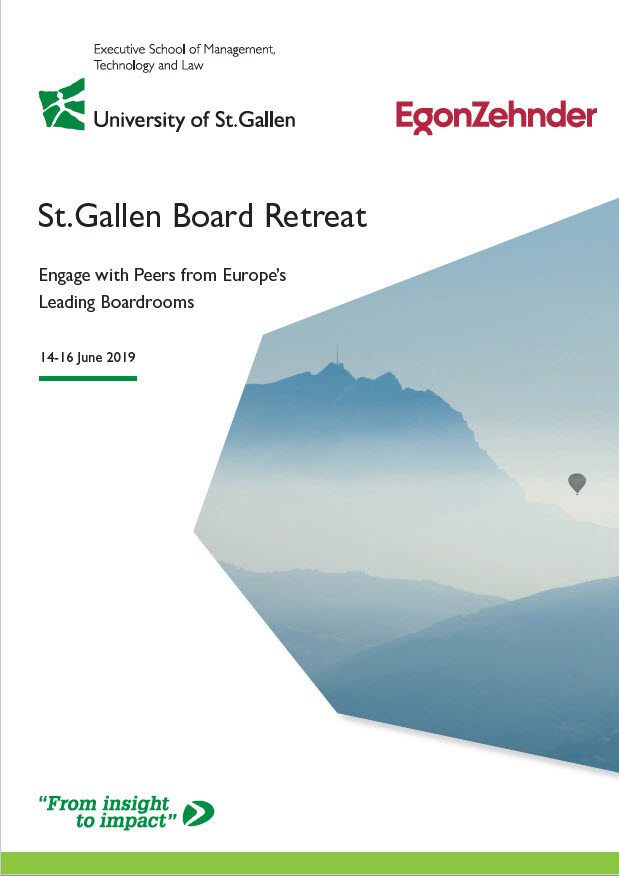 Application Criteria
This retreat is for chairpersons and non-executive directors from companies with revenues above €2bn. Apply now to join us from 14-16 June 2019.