With Women's History Month upon us, there's no better time to recognize that efforts to increase gender diversity in the boardroom are finally beginning to yield results. California's SB 826 law requiring publicly traded companies headquartered in the state to have at least one woman on their board by January 1, 2020, and three women on boards of six directors or more by 2022, has already made a positive impact. A recent study by KPMG shows that as of June 30, 2018, 29% of public companies in the state had all-male boards, but by the first deadline of December 31, 2019, that number was down to 4%. Yet despite the progress, increased gender diversity on boards has benefited white women almost exclusively, to the exclusion of women of color, with Latinas demonstrating the slowest gains in director seats among racial and ethnic groups.
The Latino Corporate Directors Association (LCDA) conducted an analysis of the California board composition in February 2020, and we have come to some worrying conclusions.
First, the good news: The report released this month by the California Secretary of State showed that 282 corporations reported at least one woman on their board, up from 173 in July of 2019, and LCDA's analysis shows that 511 women have been appointed to director roles since SB 826 went into effect. Yet only 17 or 3.3% of newly appointed directors are Latinas. Nearly 78% of those 511 appointments were white women. Of the Fortune 1000 listed companies based in California, Latinas hold 1.1% of current corporate director seats in California, the lowest number of any minority, despite the fact that Latinas represent over 39% of California's female population.
The same trend applies to boardrooms outside of California. Latina representation on boards has increased at the lowest rate of any gender or ethnic group in the U.S. According to Catalyst's recently released report Too Few Women of Color on Boards: Statistics and Solutions, "White women hold nearly four times as many seats as women of color" on Fortune 500 boards. Between 2016 and 2018, white women added 124 board seats, while African American women added 32 seats, Pan-Asian American women added 17 seats, and Latinas landed in single digits, adding only 4 seats.
Why does this matter? For starters, Latinas are leading the way in business formation. The number of companies owned by ​Latinas​ increased 87% between 2007 and 2012, the largest increase of any major demographic group (U.S. Department of Commerce 2016 report, ​Deep Dive into Hispanic Business Ownership). Latinas and Latinos comprise approximately 20% of the U.S. population and over 35% of household formation and GDP growth. According to the Latino Donor Collaborative (LDC) 2019 US Latino GDP Report, "The total economic output (or GDP) of Latinos in the United States was $2.3 trillion in 2017, up from $2.1 trillion in 2015, and $1.7 trillion in 2010. If it were an independent country, the Latino GDP would be the eighth largest in the world."
California LCDA Member and Former Secretary of the U.S. Small Business Administration, Maria Contreras-Sweet, stated, "It's past time that Latinas had a seat at the table. There is an ample supply of qualified and experienced Latina directors and C-level Latinas from an array of industry sectors. Companies must be committed to and intentional about diversifying their boardrooms." The impact of Latinas in business goes far beyond the numbers. By overlooking Latina directors, companies are narrowing the scope of their expertise, strategies, networks, and overall vision. Latinas provide a lens into America's growing multicultural marketplace; it is time for companies to "get on board."
Get On Board: An Action Plan to Identify and Promote Latina Talent in the Boardroom


1. Tap Diverse Sources
Supply is not the issue. Key networks exist to tap seasoned Latinas for the boardroom. As a membership organization comprised of experienced corporate directors and C-level, board-qualified executives, LCDA is a trusted partner to connect companies, search firms, and private equity with exceptional Latino board talent. Other organizations such as national and regional Latino Chambers of Commerce and professional associations are also great resources. In an effort to showcase top Latina and Latino talent in the U.S., LCDA and Egon Zehnder have launched a video series as an important step in our ongoing partnership.

2. Amplify Your Networks
The annual Georgeson Research Report What Directors Think confirms what we already know: a majority of boards add new directors through recommendations from existing networks. Precisely why recruitment for exceptional diverse talent must not only go beyond existing networks, it is also crucial to be intentional about integrating Latinas and diversity into existing board-level networks.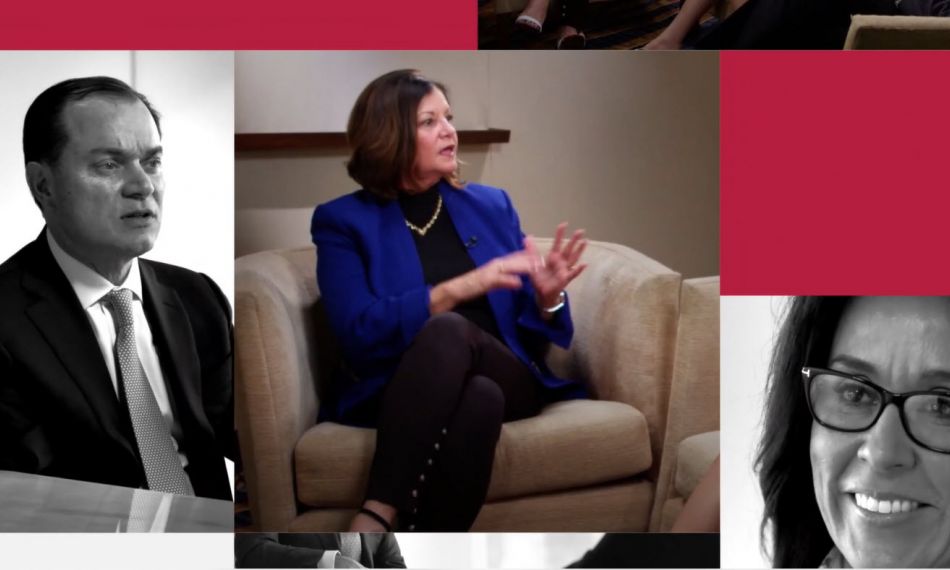 To showcase top Latina and Latino talent, LCDA and Egon Zehnder co-launched a video series featuring nine distinguished Latino and Latina board directors.
Read more
3. Reimagine Board Composition
Boards can broaden their diversity by considering leaders with experiences that extend beyond the C-suite and boardroom in their succession planning process. According to the Hispanic Association on Corporate Responsibility (HACR) Corporate Governance Study, only 10 of the current CEOs of the Fortune 500 are of Hispanic descent. With the number of Latina CEOs at less than 2%, boards that target traditional profiles, such as current or former CEOs, CFOs, and C-Suite executives will severely limit their ability to access a pool of talented, board-ready Latina leaders.

4. Invest in Your Talent Pipeline
Championing Latina talent throughout an organization is essential for progress in boardroom diversity. Companies need to be intentional about including Latinas in their overall drive to build a pipeline of women for the C-Suite, as well as track and measure the race and ethnicity of the women tapped as "high potentials." Companies that foster a diverse culture understand the importance of not only hiring Latinas, but also retaining and promoting them. In a recent interview with LCDA and Egon Zehnder, Anilu Vazquez-Ubarri, Chief Human Resources Officer at TPG, shared her organization's efforts to support Latino and Latina diversity, saying "I always tell people that the most important thing for us to make progress in the Latino community is to be an employer that retains them so that they have the tools to get promoted at the firm."
Some companies are signing a national pledge as a sign of their commitment to do just that. The Hispanic Promise launched at last year's World Economic Forum as a call to action for America's business leaders to create a more inclusive work environment. In the year since its inception, it has garnered more than 130 signatories, including industry giants Microsoft, Bank of America, and Unilever.
We believe that it is essential for corporations to increase the numbers of Latinas serving on their boards if they wish to have a competitive advantage in the future. It is time to bring the Latina perspective to the boardroom.

---


About the Authors
Al Prieto leads Egon Zehnder's New York office, coordinating the efforts of a 120 person team that serves clients throughout the New York metropolitan area, US, and abroad. In addition, Al is the senior business sponsor for the Firm's digital transformation program. Al formerly led the Firm's Global Health Practice and was Co-Lead for the Firm's US Board Practice, and remains active in both sectors. Prior to joining Egon Zehnder, Al worked at AstraZeneca as its Regional Business Director in Europe with responsibility for commercial operations across Central and Eastern Europe. Earlier in his career, he led a variety of health-care-delivery ventures and founded the InSite Clinical Trials, a U.S. biopharmaceutical clinical product development services firm that was later sold to United Healthcare. Al earned a BS in biology from Western Kentucky University and an MS in management as a Sloan Fellow from London Business School. A first-generation immigrant to the U.S., a father of three children, and the husband of a successful working mother, he is passionate about developing future leaders and ensuring equal opportunities in the workplace.
Esther Aguilera brings together accomplished executives at the highest levels of corporate governance to advance diversity in the boardroom. She is recognized as a social entrepreneur and turnaround specialist leading scale-up, innovative change and managing high performance teams. She brings a 25-year record of success executing strategic business plans to drive organizational effectiveness, growth and impact. Previous positions included leading the Congressional Hispanic Caucus Institute (CHCI) for 11 years as its President & CEO, principal at the Dewey Square Group, senior advisor to the Secretary of the US Department of Energy, executive and legislative director of the Congressional Hispanic Caucus (CHC), and a policy analyst at the National Council of La Raza. She has a Bachelor of Arts in Public Policy from Occidental College and completed the Harvard Corporate Governance Executive Program in 2005.