The Outstanding HR Executive: The Value of a Business Line Role
What is the impact of having served in a line role versus spending one's entire career in HR? Which path is more likely to result in stronger leadership competencies?
In part two of this series, we looked at whether two of the most often recommended development experiences – serving on the Executive Committee and working abroad – facilitate the development of leadership competencies.
Line Experience and Leadership
To find the answer we recently analyzed the management appraisals – from among the thousands we have done – that focus on HR executives. Of the 366 HR executives we studied, 275 had worked exclusively in HR, while 91 had at some point in their careers served in a line role.
We analyzed their scores against the seven key leadership competencies we have employed in more than 25,000 management appraisals in the past five years: (1) results orientation, (2) strategic orientation, (3) functional competence, (4) collaboration and influencing, (5) developing organizational capability, (6) team leadership, and (7) change leadership.
We found that HR people who have worked outside HR have much higher average scores for all seven competencies.

As Figure 1 shows, HR executives with line experience score an average of 4.05 across the leadership competencies. HR executives who have not had a line role score only 3.55, a statistically significant difference.
The analysis also shows that HR people who have worked in line roles score higher on each individual leadership competency.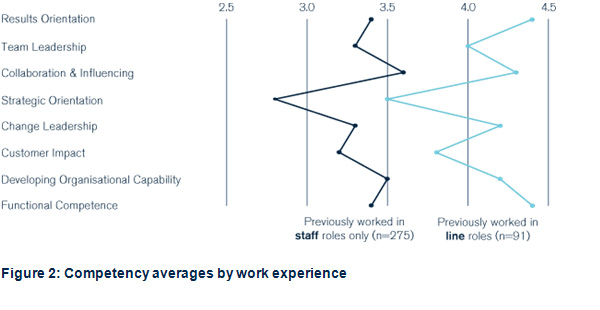 Those with line experience score a full one point higher in results orientation and, interestingly, a full one point higher in functional competence. However, the latter difference is perhaps explained by the fact that our assessments of functional competence in HR are weighted toward the ability to act as a business partner. For each of the remaining five leadership competencies, the gap is more than half a point.
Understanding the Implications
What are the implications of these results?
While these are correlations, rather than proofs of causality, the results do suggest that there is considerable value to be gained from rotating high-potential HR people out into the business early in their careers. Those experiences help them build knowledge of other functions and train them to think as accountable business people and enable them to bring those skills with them when they return to HR. And if they don't return, the business benefits from the addition of someone who really understands pivotal talent issues. Either result can make a real difference to an organization.
Conversely, promoting an internal candidate into HR leadership who has only line experience could, under the right circumstances, be a wise move. For example, when deep knowledge of the business is critically important in HR or there is a large non-HR change project that requires having an HR leader who knows how to get things done in the business, such a move might make sense. But only if there is already in place an extremely strong HR team whose exceptional skills and support could free the new leader to concentrate on the special circumstances that call for such a move.
When considering external candidates for top leadership roles companies may want to consider whether those candidates have line experience. Certainly, such a qualification isn't mandatory, but with otherwise closely matched candidates, such experience could be a real differentiator.
For an already very senior HR leader it might be difficult to move into an equivalent line role. However, they can compensate for the inability to make such moves by working on cross-functional projects such as integration of acquisitions, participating in these opportunities not as HR representatives but as business-focused leaders.
From our analysis of the HR appraisals a picture of the outstanding HR leader, painted in this and the two previous installments in this series, has emerged. Such leaders strive to improve all seven leadership competencies; they are especially strong in results orientation, change leadership, and collaboration. Their development has been strengthened by serving on the Executive Committee, by working abroad or in a geographically dispersed HR function, and by working in a line role.
Related Thinking
The Outstanding HR Executive: The Impact of Experiences on the Development on Competencies (Part 2)
The Outstanding HR Executive: Identifying Opportunities for Improvement (Part 1)