Henry Ford 4.0: Getting Digital Leadership Right in Industrial Manufacturing Just Might Drive Your Margins Up by 26%
The prevailing narrative around the Industrial Revolution in its first, second and third iterations is only partly true.
Steam power, electricity and modern computing were in fact breakthrough technologies that rapidly came to the fore, disrupting established industries and creating new ones. But technology-enabled sea-change has typically been driven not by technology itself, but by a transformational leader who saw how to derive value in a way that others did not. Leadership and culture play an enormous role in transformation, but are typically overlooked as secondary to a revolutionary technology.
For example, Henry Ford did not invent the automobile or the assembly line. He did, however, marry his expertise as an engineer, his knowledge of emerging technology and his transformational leadership ability to drive an approach that changed the world – and built an automotive empire. Had it not been for his leadership, and his ability to drive a culture of innovation, the assembly line might never have reached its true potential.
The Four Industrial Revolutions

Today, connected devices, big data, cloud computing and analytics are some of the technologies enabling a Fourth Industrial Revolution, or Industry 4.0 in industry parlance. The digitization of manufacturing promises to become the next frontier to deliver margin expansions and create new business models and profit pools, particularly as lean manufacturing matures and starts to deliver diminishing returns.
In fact, McKinsey published a study on Industry 4.0 in 2016 detailing expectations among U.S. manufacturing companies, targeting productivity gain and cost improvements at 12 percent and revenue improvement at 14 percent – an organic margin expansion of 26 percent. The study called out the following leadership barriers that have limited or halted any progress for Industry 4.0 implementation:
Lack of courage to lead a radical transformation
Difficulty of coordination and gaining traction across the organization
Lack of the necessary skilled digital/technological talent
Shortage of coherent business cases to justify full system and infrastructure implementation
That said, despite the proliferation of digital technology, major corporations are still only in the nascent stages of driving value from it. CEOs, COOs and CIOs across industry are sharing the role of drafting and driving Industry 4.0. But there is a difference between managing change and driving transformation.
Managing Change vs. Leading Transformation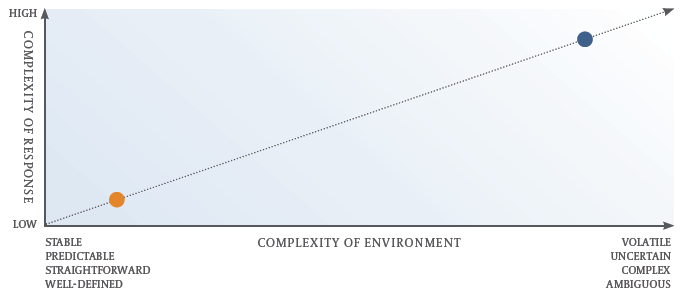 A new kind of leader is needed – the Digital Value Creator.
Our experience and research shows that Digital Value Creators are leaders who demonstrate spikes in three distinguished dimensions to build and sustain digital DNA, lead with strength and develop the right culture from top to bottom.
Three Dimensions of Digital Value Creators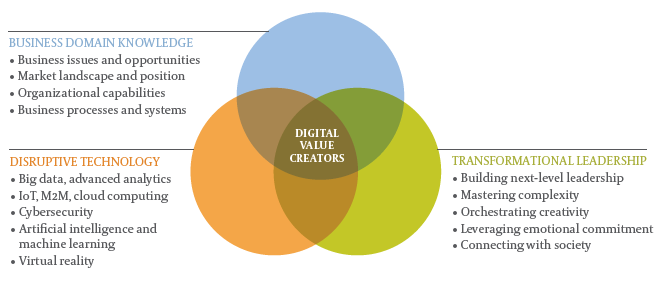 Business Domain Knowledge
Leaders in any field most often have significant experience in that domain, making them true experts. This business domain knowledge means that they are constantly evaluating the challenges, opportunities and successes within and around their business – and if they have significant business domain knowledge, they will do this well enough to keep their organization running efficiently and grow it sustainably in a world changing at a more accelerated rate than ever before.
What makes Digital Value Creators unique among other leaders with business domain knowledge is their ability to identify value creation opportunities across the business with an eye toward digitization. When a competitive threat arises, they pinpoint how levering digital can solve the issue. When tasked with creating new opportunities, they consider digital first and foremost as the key to unlock new markets, new offerings and, ultimately, revenue. The ability to develop a holistic business domain perspective encompassing current and future business models, value propositions, organizational capabilities, business processes and operational effectiveness (manufacturing and supply chain) and end users – all through the lens of technology – is key to leveraging new profit pools in today's all-digital world.
Understanding Disruptive Technology
The manufacturing sector is among those most disrupted by new technologies. Entire processes honed over decades have now changed completely with the massive rise in data volumes and accessible computational power; the emergence of deeper analytic and business intelligence capabilities; new applications of human-machine interaction like augmented reality; and the transfer of digital instruction to the physical world in applications such as advanced robotics and 3D printing. These new technologies require whole new levels of understanding that many in the manufacturing sector may not have cultivated.
A Digital Value Creator will have experience with, and understanding of, emerging technologies, with exposure to the complex new technological ecosystems evolving every day. At their core, a vast majority of these Digital Value Creators have a technical DNA that allows them to not only understand the disruptive technologies directly in operation in the new manufacturing processes, but also understand leading groups of like-minded technologists who innovate and push the boundaries – they have the technical know-how to identify a breakthrough technology.
Transformational Leadership
Transformational leadership is most difficult to assess but also the most critical dimension to build and sustain digital DNA and drive immediate impact.
In helping many leaders devise effective strategies to transform their business, we have observed that those who are most successful in this process are the ones who understand that true transformation must reach down to the cultural roots of the enterprise. But if culture is the most important part of a successful transformation, it is also the most elusive. How exactly does a leader go about rewiring an organization's priorities and values?
Our research has shown that, while lasting transformations may appear from the outside to be unique, they have five critical elements in common:
They help the organization better master the complexity of its environment
They foster the creativity of the organization's employees
They reinforce the emotional commitment of those employees
They strengthen the organization's larger role in society
They build leaders and a leadership structure to guide the organization into the future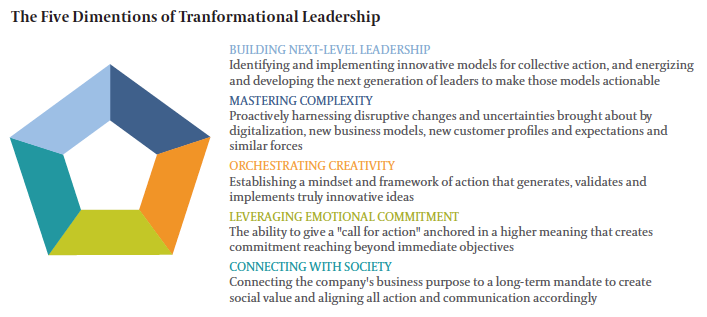 These elements of successful transformations provide a blueprint for leaders driving transformation in the era of Industry 4.0. Ultimately, while leaders may be well-versed in disruptive technologies and entrenched in their industry's business domain, it is their quotient of transformational leadership that makes them true Digital Value Creators. These are the leaders who will guide companies through Industry 4.0 – and perhaps, one will emerge as this revolution's Henry Ford.