The last few years have challenged the CFO role as navigating often unpredictable economic and geopolitical scenarios while striving to meet the expectations of the CEO, the board, and shareholders amplified its complexity, making this position increasingly multifunctional and strategic.
As new competencies have been added to the CFO playbook, the expectations placed upon these executives have also evolved, leading many clients with this question:
Is it sufficient to focus only on the technical skills of candidates when choosing a new CFO?
Undoubtedly, a highly technical and qualified profile is a starting point. However, for a successful hiring, considering an individual's potential is just as important as their technical expertise.
The focus is on discovering how a person can adapt and develop not only in the present, but as circumstances change over time. At Egon Zehnder, we assess those traits through our "Potential Model," a methodology that examines individuals across four dimensions: Curiosity, Insight, Engagement, and Determination. Having this level of clarity helps organizations determine which talent best suits their current and future needs, leading to more confident decision-making.
The New Competencies of the CFO
While future potential is a valuable tool for making the right hire, it is also essential to understand the broader context and how the role of CFO is evolving:
The function has broadened to act as a co-pilot in the organization. This includes providing recommendations to the CEO and supporting institutional initiatives of human nature that motivate teams and ensure high performance.

---

Another characteristic is greater flexibility of thinking and action. CFOs must be deeply curious about the world around them—lending agility, pragmatism, and openness skills to new scenarios in local and global contexts.

---

More recently, CFOs have also embraced the role of bringing the ESG agenda into the company due to their proximity to shareholders and potential investors, as well as considering the requirements of the market. They are deeply involved in the ESG strategy, identifying connections between ESG performance and company results, and defining the best way to communicate with internal and external stakeholders.

---

Finally, the growing digitization also plays a defining part in the CFO function due to organizations' increasingly need for a deep and real-time view of their performance, calling for an ability to use algorithms in decision-making. This skill will facilitate the CFO's work as the business co-pilot, strategy formulator, and people leader.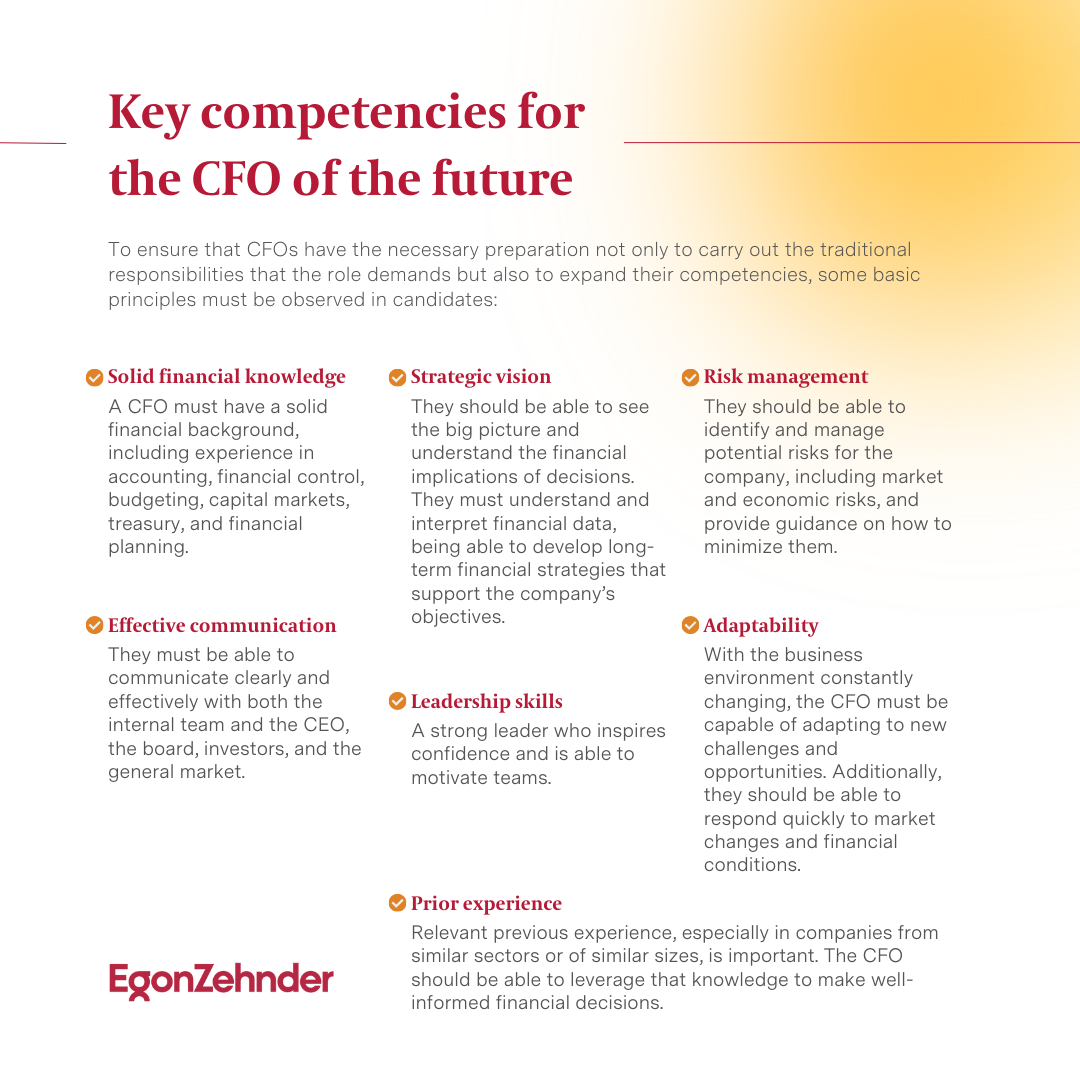 Blending Leadership Archetypes
Drawing from our work with thousands of CFOs over the years, we have outlined four CFO archetypes. However, the expanded capabilities of the role require highly flexible leaders who can adapt to circumstances and lead beyond what they were traditionally prepared for. In this context, the four archetypes can serve as additional tools in the CFO's toolbox, but the prevalence of each archetype will depend on the moment and the executive's adaptability skill.
Operational/Transformational CFO
Generally, this profile has a more directive style to achieve rapid results. Works well with externally oriented and highly strategic CEOs. Typically, brings experience in roles such as operations or general management, being knowledgeable in different businesses and with strong industry insights. May also have a robust track record in leading transformation, an action-oriented mindset, and ability to mobilize the organization for change.
Corporate Strategist CFO
Plays a crucial role developing and executing business strategy. This CFO has a broad understanding of the company's goals and market trends, uncovering new business opportunities. Critical thinking is essential for this archetype—it needs to strategically evaluate financial and operational information to identify growth opportunities and potential risks. Moreover, this CFO profile has a strong external reputation and relevant experience in resource allocation, investments, and growth or restructuring strategies across a portfolio of assets and/or businesses. He or she may have been prepared within holding company structures with diverse lines of business.
Super Controller
This used to be the most common CFO archetype. These individuals possess a deep grounding in accounting, processes, systems, and controls, and are typically more efficient in situations where governance and controls require significant attention and market trust needs to be restored.
Externally Focused CFO
This archetype is generally more efficient when having strong functional teams below or around them to support key finance functions such as accounting, FP&A, treasury, taxes, etc. Tends to have significant experience in M&A, capital markets, investor relations, extensive external networks, independent thinking, and strategic insight. May have a background as a former banker, strategic consultant, etc.
Selecting Your Next CFO
An assertive hiring process doesn't happen overnight, and it's crucial to analyze where the organization currently stands, where it wants to go, and how the CFO fits into this puzzle.
Our Potential Model serves as a powerful framework. As our colleagues Anna Auerbach and Cesy Cenudioglu wrote in a recent article, it may be interesting to add some questions to your selection process that can assist recruitment teams: What are the underlying themes that drive the individual? What inspires them or gives them energy? When are they at their best? These questions will help uncover the type of person the candidate is and how they may behave going forward.
As organizations evolve and expectations on the CFO grow, it is increasingly clear that a highly technical profile will not be the sole pointer of success. At the same time, it's important to keep in mind that most of these executives were not traditionally prepared to play roles so distinct from the original core of the function. The ability to have an impact on the organization is greater in the co-pilot seat, but the potential that each leader brings to the role must be considered. This will make all the difference in the long term for organizations.
The modern CFO is not only a technical and tactical leader but also a strategic leader who must be curious, agile, open to new ideas, and capable of inspiring and leading their team to ensure high performance. The end result is a multifunctional, adaptable, and high-impact CFO role where an individual's potential is as important as their technical skills.