IHS CERAWeek 2016
Energy Transition: Strategies for a New World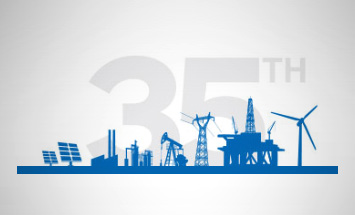 For the fifth consecutive year, Egon Zehnder is honored to be a strategic partner at IHS CERAWeek 2016. This year's event entitled: "Energy Transition: Strategies for a New World" will bring together top-ranking leaders and experts from the global energy community for dialogue and analysis of the future trends in energy provision and effective responses to current market volatility. Once again, Egon Zehnder will convene the CEO Breakfast Panel at IHS CERAWeek, bringing together top energy decision-makers from around the world for a moderated panel discussion on Wednesday, February 24.
---
Leadership Insights
CERAWeek 2016: Energy CEOs Prize Potential
Energy CEOs agree that developing and retaining high potential talent is critical while managing through the downturn and positioning the organization for success on the upturn. But how can leaders identify potential? Writing for the Harvard Business Review, Egon Zehnder Senior Adviser Claudio Fernández-Aráoz outlines the five key potential indicators and explains why it is even more important than skills or experience in today's fast-changing business environment.
---
CERAWeek 2016: 5th Annual Egon Zehnder CEO Breakfast Panel
Since 2012, Egon Zehnder has been privileged to present the CEO Breakfast Panel at IHS CERAWeek. At these invitation-only events, energy leaders from around the world gather to discuss the industry's critical issues. This year's panel will explore the ways in which energy companies at various points in the value chain are responding to the unprecedented challenges and opportunities of today's dynamic market.
Follow us on Twitter to receive key insights from this year's panel
---
CERAWeek 2015: "The Future of Energy Leadership" panel discussion
The market turbulence, high levels of M&A activity, and the ongoing challenges of public dialogue are testing the mettle of energy industry chairmen and chief executives who must chart a course forward and maintain high performance during uncertain times. To see how industry leaders are grappling with this task, Egon Zehnder convened a panel discussion on energy leadership at CERAWeek 2015, the industry's premiere annual gathering. Here is what we heard.
---
Shareholder activism in the energy industry continues to rise, but the impact on company returns is often short-lived once activists exit their temporary ownership positions. According to Egon Zehnder's North American Energy Practice Head Steven Goodman, one way for boards to drive long-term improvements in company performance is through a board effectiveness review. In a video interview filmed on site at the 2015 CERAWeek conference in Houston with IHS' Atul Arya, Goodman discussed a typical review, which provides recommendations on the structure, roles and responsibilities, as well as behaviors of each of the board members, and can help improve a board's decisions around strategic scenarios, capital allocation, and CEO performance and succession.
---
In the news