The Israeli startup scene is known for its entrepreneurial drive, innovation, and determination to make a difference in the world. With a unique culture fueled by the belief that anything is possible and a national infrastructure and investment scene to support, Israeli startups have made significant strides in a variety of sectors. While they have excelled in seeding and launching startups, it's only in the last few years that Israeli tech companies have successfully scaled internationally, with many globalizing and listing on NASDAQ. Recent events on the ground in Israel have further raised the importance of internationalization as startups look to ensure they have stable international foundations on which to grow. However, the journey is often less than straightforward, with mistakes and hurdles to navigate along the way. Our experience working with Israeli boards and leadership teams reveals three vital areas startup leaders must focus on to scale sustainably: building an IPO-ready board, attracting and integrating international executives, and adapting company culture for global expansion.
Building an IPO-Ready Board
As successful start-ups prepare to go public, building an IPO-ready board is an important element in setting up the business to succeed as a public company. Moving from an "investor-heavy" board to one with a strong set of independent board members is key for more reasons than just compliance. Independent board members will bring deep sector-specific and functional experience, and new connections and can rightly challenge and contribute to the executive leadership team on strategy and decision-making. However, there is a nuance to what Israeli startups expect from their independent board members.
The traditional archetype of the public company board members often follows the adage "noses in fingers out," but startup founders want board members who are willing to be hands-on. The right board director for an Israeli tech company will strike a balance, getting involved outside of the board meetings to work with and advise the leadership team as they look to scale the business, operate in an agile way, and connect the dots between emerging risks and opportunities.
As startups seek to add independent board members, they should:
Align on and communicate expectations: Clearly define the time commitment expected from board members. For board directors who are also sitting executives, they will have less flexibility and time, which the leadership team will need to consider. For directors who serve on other boards, they may also have different expectations depending on the engagement style of those companies.

---

Be strategic, not narrow, in skillset selection: Identify the critical expertise required for the company's growth trajectory in the coming 3-5 years. This could be IPO experience, industry fit, functional expertise, and diversity.

---

Define the desired board culture: Assess potential board members' ability to engage with culturally diverse environments and operate in agile settings in the boardroom and with management. Is their style direct enough to gel with a predominantly Israeli leadership team?

---

Prioritize mindset: While experience and skills are important, it's also critical to look for independent thinkers with a strong will to win. A potential board member who is passionate about mentorship or has coaching qualities may also be a good addition, depending on the role management would like the board to play.

---

Bring in non-executive directors before you "have to." Many companies wait until they are approaching the IPO stage to seek independent non-executive directors, which is detrimental to both potential board members and the company. This timing is less financially attractive to prospective directors, as they will want to see the upside of scale, and for the startup, it means they won't receive independent advice until a much later stage in their company's journey.
Attracting Global Executives to Drive International Growth
In our experience, we have seen two major pain points for Israeli startups in attracting and retaining the right global executive – the Chief Financial Officer (CFO) and Chief Revenue Officer (CRO) or Sales Leader. When it comes to the CFO role, there is a small pool of Israeli CFOs to draw from who have the right IPO experience, and even those who hold the role may not be accustomed to addressing a large, global set of stakeholders or operating in a fast-growth environment. Many startups look to the Big Four accounting firms to find local talent that understands the complexities of scaling and getting ready for IPO, but all too often these candidates are stronger at the controller role versus financial strategy and will not bring the rigor that Wall Street wants to see.
Startups can look to global finance leaders outside of Israel who have had experience in fast-growth tech and venture capital firms as well as those who have led a company through an IPO. A nice-to-have layer on top of that experience is someone whose ancestry is Israeli or an adjacent culture, or who has the cultural versatility and past exposure to operate effectively within the Israeli startup culture.
Challenges for finding the right CRO or sales leader center more on how best to assess leaders' performance in other markets. Some Israeli founders have told us that they have made multiple international hires into the CRO role before finding the right fit, which isn't without consequences. Not only does it slow growth but there can be an organizational deficit after each departure.
To avoid these mistakes, startups can consider the following: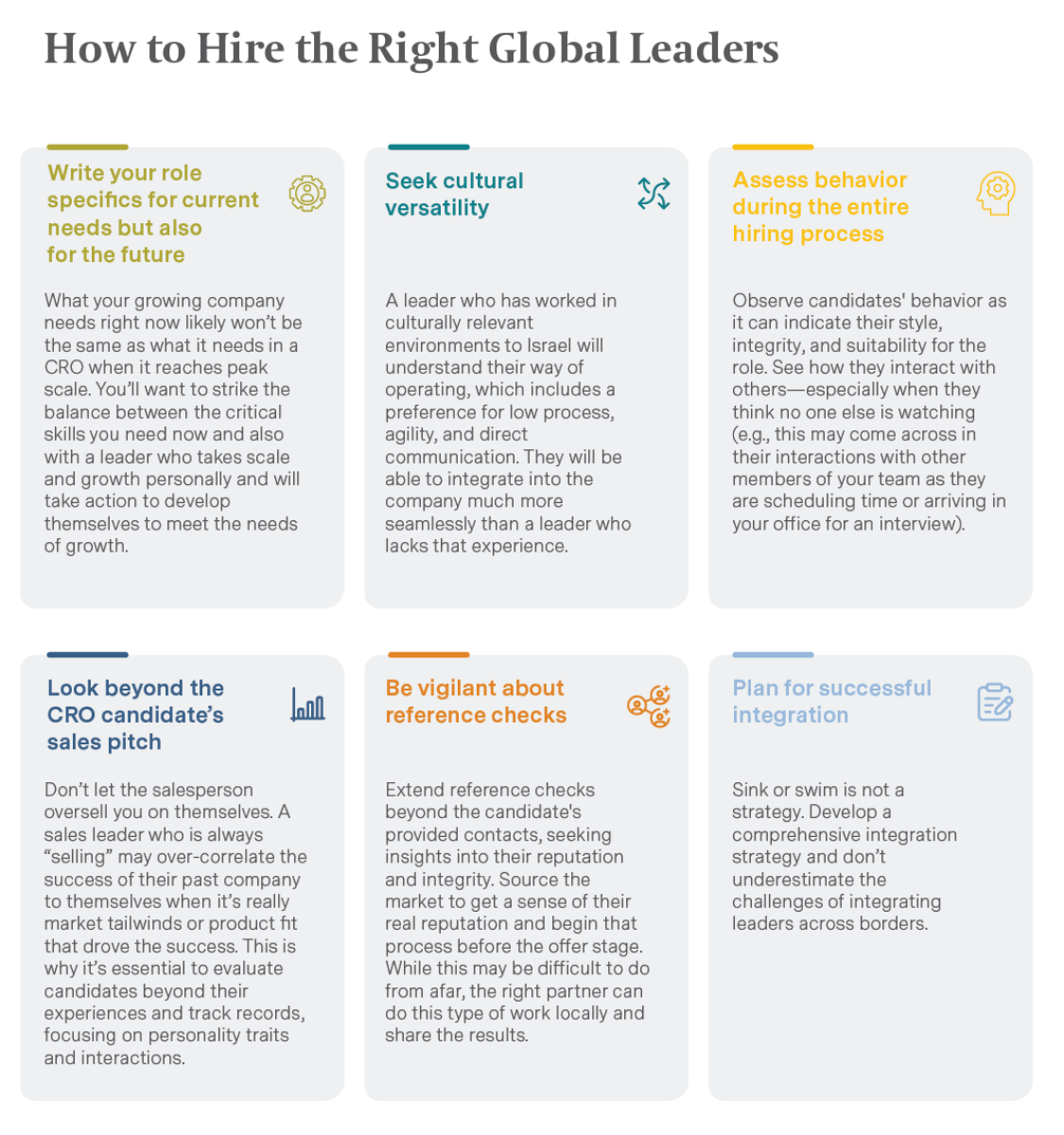 Balancing Preservation and Change: Adapting Company Culture
As Israeli startups scale in size and international presence, certain cultural norms that once fostered entrepreneurial success, such as agile decision-making, high-risk tolerance, and preference for little structure, may hinder further growth and need to shift. To effectively navigate this transition, startups can adopt the following three strategies: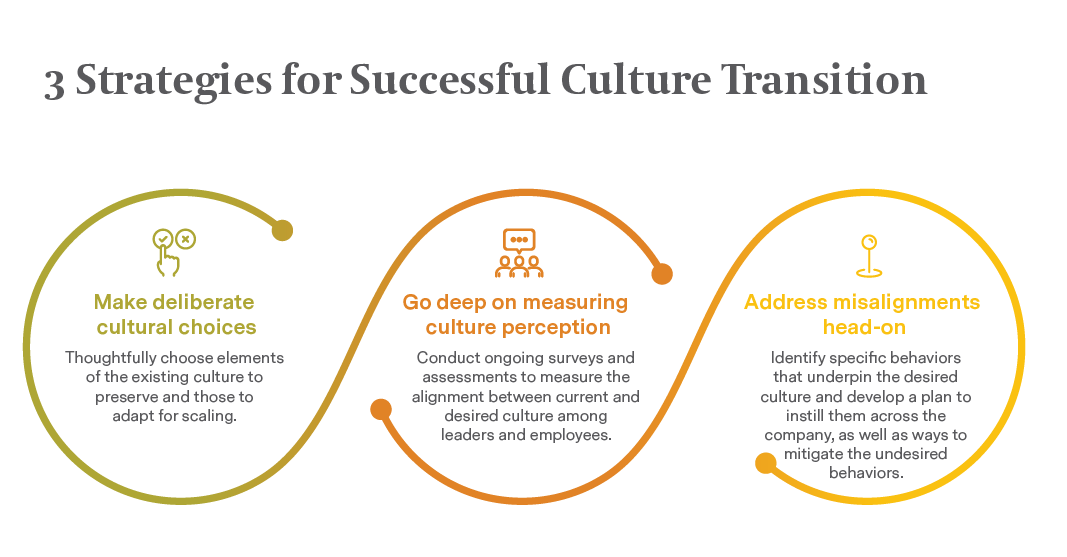 Paving the Path to Growth Through Leadership
The Israeli tech ecosystem has been a remarkable success story. The journey to global scale is exciting and challenging and is arguably more important today than it ever was. Israeli startups face some common but also unique cultural challenges on the journey – by recognizing these key areas, whether it be assembling an IPO-ready board, hiring international executives, or adapting company culture, and then purposefully navigating them through the right approaches and decisions, Israeli startups can enjoy a more seamless journey to scale and success on the international stage.