In-depth study explores factors affecting leadership gender diversity at leading Latin American organizations.
NEW YORK March 21, 2016 – Egon Zehnder, a global leader in executive search and talent advisory services today released its 2016 Latin American Board Diversity Analysis, a new report examining gender diversity at the board level of leading publicly traded companies in Argentina, Brazil, Chile, Colombia and Mexico. The study joins complementary Egon Zehnder analyses of European and global boardrooms, leveraging the firm's knowledge of the leadership composition of the leading companies in Latin America and around the world.
"When compared to Europe, the United States and Canada, Latin America lags behind in the percentages of sitting women board directors and in the rate of annual appointment," said Cristina Manterola, a Santiago-based Egon Zehnder consultant and regional leader of the firm's Global Diversity & Inclusion Council. "While it appears that the idea of gender diversity in the boardroom may be gaining some traction in Latin America, businesses must accelerate the cultivation of ready women candidates and increase the pool of board-ready women nominees as other regions have done at an aggressive rate," she added.
The report is based on analysis of the board composition of 155 major Latin American companies, as well as in-depth interviews with 61 board chairs and female board directors to gauge their perceptions on gender diversity's relevance in the boardroom and the challenges involved in improving the numbers.
The study finds that at the country level, the role of cultural bias continues to play a significant role in women's leadership progression. Women continue to face uphill resistance from male counterparts regarding their leadership ability. The findings show that 41 percent of board chairs and board members said that "continuing cultural bias" was the largest impediment for women reaching board positions. Importantly, only 21 percent of the board chairs and members interviewed said their company has special policies or programs to select, hire and promote women from within management.
However, some countries have shown notable strides. Colombia, for example, has relatively high levels of gender diversity in its boardrooms; the majority of boards (67 percent) have at least one female director.
In Argentina, by contrast, less than half (40 percent) of boards have even one female member.
Additional findings from the analysis include:
Only 24 percent of the board chairs and board members surveyed – and only 15 percent of those not on Colombian boards – consider increasing gender diversity to be on their board's agenda.
Increasing the presence of women in the boardroom will require a stronger pipeline of women in P&L leadership roles. Boards must work to increase the number of women in P&L leadership positions while rethinking not merely the competencies and experiences that need to be added, but additionally look to the leader's leadership potential.
Boardroom gender diversity needs to become part of the larger corporate governance mandate. A key first step is in collecting and disseminating data on boardroom diversity and on qualified women candidates, sharing best practices and facilitating networking among potential board members.
New board members are drawn from the personal and professional networks of current members. This leads to a predictable level of homogeneity not only regarding gender but nationality, educational affiliation and other attributes.
"Latin American boards need to view boardroom gender diversity as part of the cost of entry into the upper tier of global corporate citizenship," said Maitée Soares de Camargo, Egon Zehnder Health's Latin America lead, and a member of the firm's Diversity & Inclusion Council based in São Paulo. "Companies must take multiple, proactive steps towards building a culture of gender diversity – working harder to find suitable female candidates, reexamining their criteria for selecting directors, and facilitating dialogue among potential board members. Time alone will not close the gap in these countries."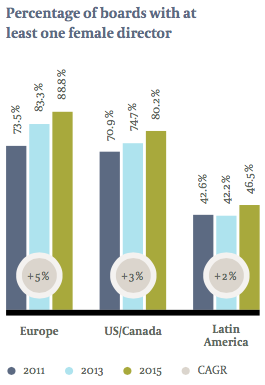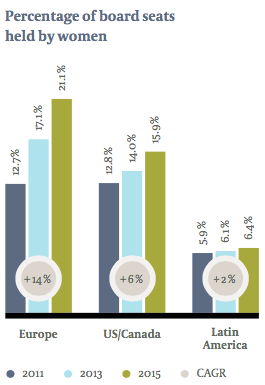 Accelerating the rate of change is pertinent because of how greatly Latin America will fall behind other regions if no action is taken. To put this in perspective: North American and European business leaders are increasingly supporting a near-term goal of having women account for 30 percent of board seats.
By Egon Zehnder's calculations, at the current rate of change, Europe will reach that goal in 2018, North America in 2021 – and Latin America in 2042, a generation from now. This gap will put Latin American boards at a significant disadvantage in helping their companies compete in a world in which women represent half (or more) of the purchasing power and a growing share of the talent pool.
To learn about more the key findings or to read the full report, visit: /what-we-do/diversity-equity-inclusion/insights/2016-egon-zehnder-latin-american-board-diversity-analysis.
About the Egon Zehnder Latin American Board Gender Diversity Analysis
Egon Zehnder analyzed the board composition of 155 major Latin American public companies headquartered in Argentina, Brazil, Chile, Colombia and Mexico that had a market capitalization of US$1 billion or more, and conducted in-depth interviews with 61 board chairs and female board members regarding their perceptions on gender diversity's relevance in the boardroom, and the challenges involved in improving the numbers. The 2016 Latin American Board Gender Diversity Analysis reveals the firm's findings and concludes with a list of recommendations for boards to consider regarding the issues.
About Egon Zehnder
Since 1964, Egon Zehnder has been at the forefront of defining great leadership in the face of changing economic conditions, emerging opportunities and evolving business goals. With more than 560 consultants in 64 offices and 36 countries around the globe, we work closely with public and private corporations, family-owned enterprises and nonprofit and government agencies to provide board advisory services, CEO and leadership succession planning, executive search and assessment, and leadership development. For more information visit www.egonzehnder.com and follow us on LinkedIn and Twitter.
For media inquiries, please contact:
Egon Zehnder
Hilary Crnkovich
Global Head of Marketing and Communications
T: +1 312 260 8978
E: hilary.crnkovich@egonzehnder.com