The venture capital (VC) community has a tendency to mythologize the startup founder as a lone genius – on some pre-destined course to put a dent in the world. This oversimplification makes for a good book or movie script, but it is never quite that simple in reality and this assumption glosses over the work of great teams and advisors who contributed along the way.
While founders are often extraordinary people who just find more hours in the day, in my experience the great ones also have the self-awareness to surround themselves with gifted people who help them balance their skills and competencies to address critical challenges in the business. At Egon Zehnder, we put that observation to the test and unearthed some data that makes the point: great founders nearly always make a pivotal Key Hire, who is a "founder complement," well before an IPO.
We looked at the top 10 consumer tech IPOs over the last 25 years, the single key hire made before the public market debut (besides the CFO) and the timing and profiles in each instance to help better inform best practices for aspirational founders. We have deliberately simplified our analysis to assume a single Key Hire and recognize that many other talented people were also hired into C-suites at these companies pre-IPO. We were able to extract some lessons and best practices that founders on a similar journey may find useful: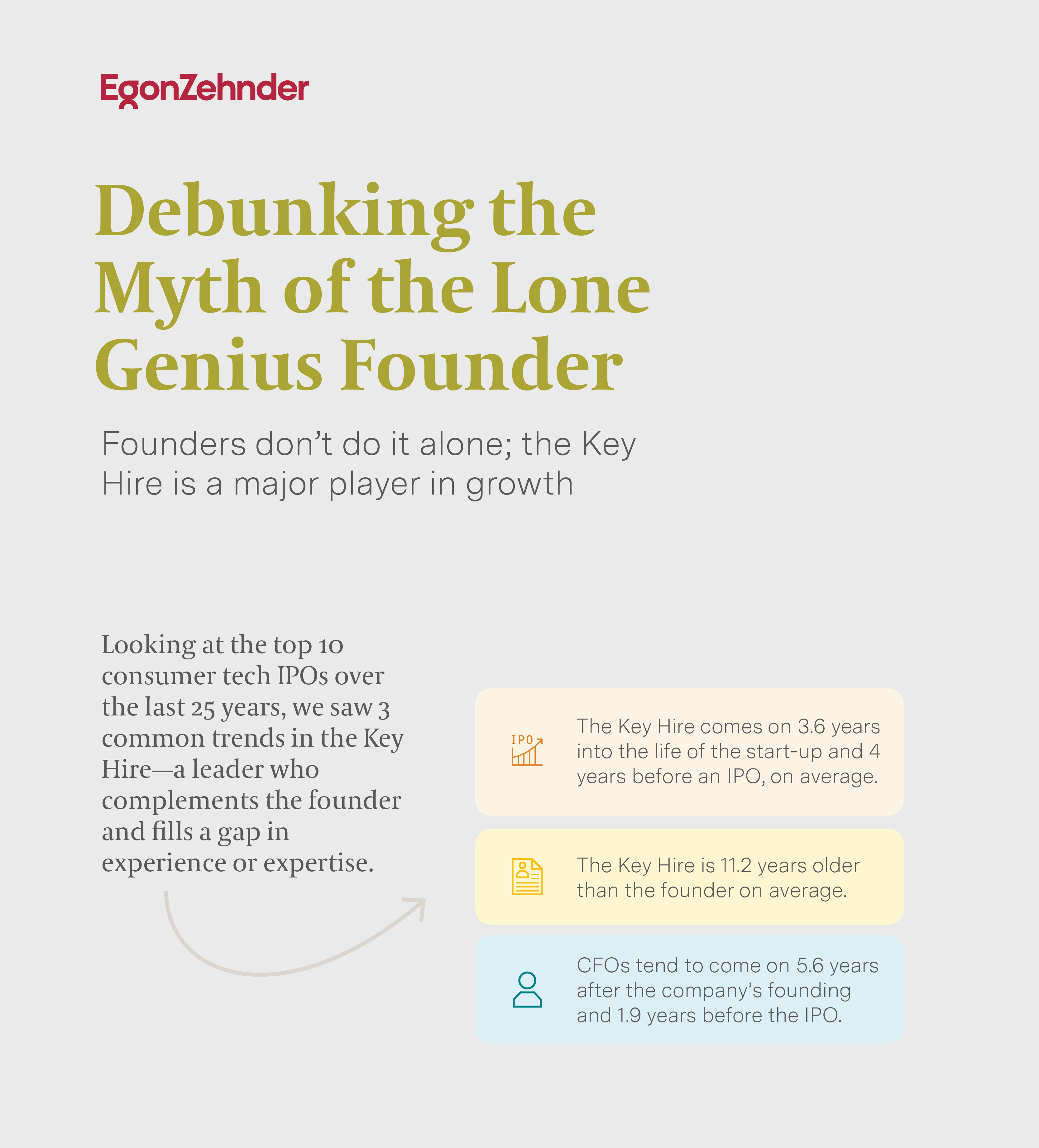 When it comes to the Key Hire, founders must have the self-awareness to be open to the notion of bringing on experienced talent to address gaps and help tackle the massive challenges they could foresee ahead. This demonstrates humility and openness that may help them better navigate the relationship and leadership control that they maintain after making that Key Hire.
While the Silicon Valley VC pendulum has swung increasingly founder-friendly in recent years, there's a fear among startup founders that their investors are seeking to oust them in more uncertain times. While paranoia can be healthy, founders should also recognize that bringing on key leadership in the right moments of transition might be precisely what they need to bridge gaps in their own competencies as they move through distinct growth phases in their business. A proactive approach to working with investors, advisors, and board members to find an experienced operator that complements their skill set could signal founder maturity and the self-awareness to lead through the later stages of the startup journey.