What consequences does the "VUCA world" have on the way in which leadership can be mapped out in future? What are the consequences for leaders? The complexity of our world's current tectonic shifts does not allow for easy answers. While numerous studies have already examined the future of leadership & management in other industries, little has been reported on the future of leadership in the legal market. Egon Zehnder and the Bucerius Center on the Legal Profession (CLP) aim to fill this gap with their study, "Future of Leadership", recently presented at the 11th Autumn Conference of the Bucerius CLP. The Bucerius CLP and Egon Zehnder have examined the skills, qualities and mindsets required to lead in future. In particular, those required to lead change. The report looks at trends and their impact on leadership.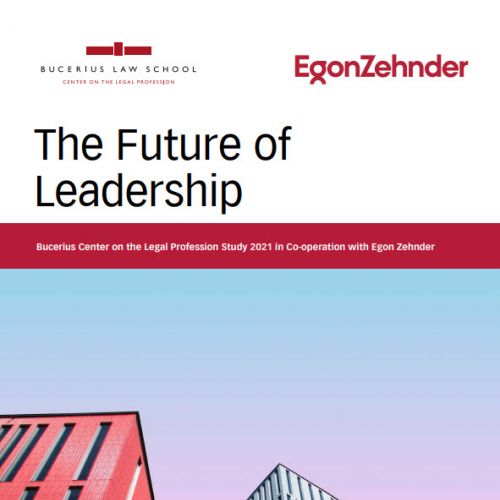 In interviews with 13 managing partners and 17 general counsels, the Bucerius CLP and Egon Zehnder concluded that leaders are challenged to continuously operate between three levels of leadership in order to successfully lead their organisations in today's world while at the same time preparing for tomorrow: A strategic, systems-focused level (CONNECT); a level focused on the organisation's internal system, on collaboration and effective interaction (RELATE); and a personal level related to the development of one's own leadership competencies (REFLECT).
In practice, this means: At the Connect level, leaders need to be aware of the systems outside of their organisation and their "bubble". To do this, they need to expand their network and horizons, regularly review the status quo, ask questions and find external resources to develop and inspire them. At the Relate level, it is crucial for leaders to develop strong relationships with the team, ask questions that enhance creativity and encourage others to do the same. At the Reflect level, leaders are encouraged to find time to reflect on how they lead and to systematically drive their personal development.