Sustainability is one of the key topics preoccupying CHROs right now. They recognize that a sustainable business strategy is good for the environment, beneficial to the bottom line, crucial for attracting customers and moreover essential for luring and retaining talent. In other words, sustainability can simply make the world a better place, CHROs concluded in a recent roundtable discussion, led by Egon Zehnder.
Being Competitive and Responsible
So how do today's CHROs see sustainability? According to answers submitted in a Mentimeter survey, some view sustainability as a way of helping companies to create value. For others, sustainability is about survival - about a company keeping a license to operate.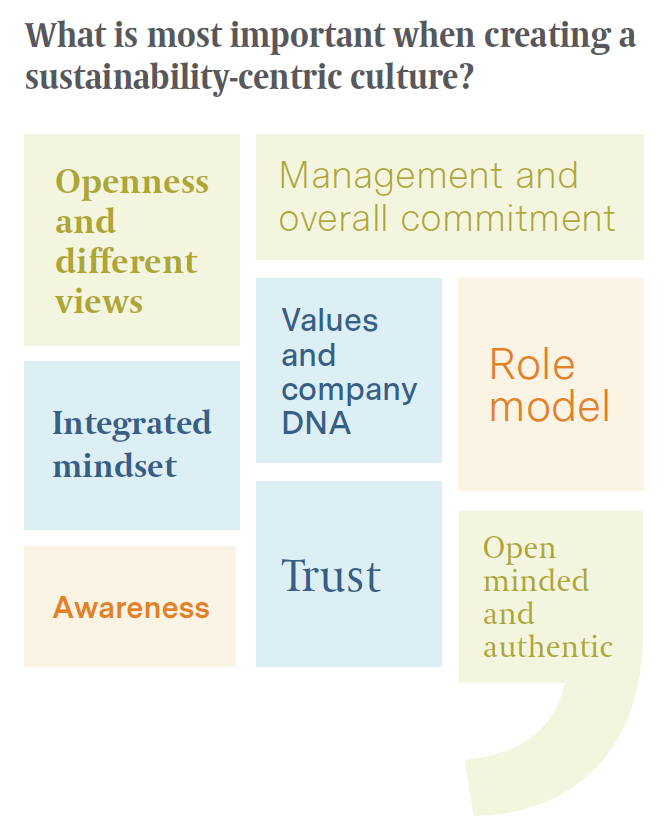 Sustainability is about the future, about being competitive, and about being responsible, says one executive. "The world today is in a triple crisis where climate, resources, and environment are endangered. This means human livelihoods are at risk, with dwindling resources, and environmental destruction. It is clear that action is needed, and we can't carry on like this."
As society starts to realize that it can't continue to act wastefully, the current growth paradigm of using more and more fossil resources while generating more and more waste no longer becomes tenable. Consumer behavior is already changing, with shoppers increasingly opting for more sustainable choices.
Moving Towards Circularity
Of those CHROs surveyed, many admitted that becoming more sustainable is "very important" to their company's culture. Others deemed it as "relatively important" in comparison with other needs within the business. "Sometimes it's a question of feasibility in relation to economic needs," declared one executive.
When asked about the top sustainability topic for their company, CHROs mentioned aspects such as fuel burn, sustainable packaging, energy costs, and supplier evaluation. In terms of why companies should care about sustainability, CHROs regard it as "important for the future of the company", as "catering to customer demands" and "helpful in terms of competitiveness". Or, as one CHRO succinctly said, "because there is no other choice".
Other CHROs cited "awareness" when asked to name the most important factor to create a sustainability-centric culture, seeing this as a precondition to building the right sustainability mindset.
Another key topic is circularity. One company is pursuing a comprehensive approach towards circularity in terms of products, production, and partnerships in a bid to contribute to a greenhouse gas neutral economy. It plans to expand its range of circular products with low or net-zero emissions to improve its environmental balance and fulfil customer demands for sustainability. Its new product range includes alternative circular solutions to its conventional products. In the long run, it will offer all its products in a climate-neutral version in response to increasing customer demand, predicted an executive.
Sustainable production means using raw materials, renewable energies, and innovative recycling. Joint solutions, meanwhile, refer to establishing new value-creating collaborations and business models for circularity.
Passion and Personal Sustainability
CHROs concede that there is a long journey ahead as they strive to achieve sustainability; this is a marathon, not a sprint. Challenges include avoiding bias, data reporting, and embedding new behaviors.
Let's not forget personal sustainability. CHROs need to rely on their passion and readiness to go that extra mile with the knowledge that this can bring about a positive impact. As one executive declared, "Our purpose is to make the world a brighter place."