Nearly two decades of easy access to abundant capital has spawned a new generation of Founder-led startups. Many of these startups went public during the IPO and SPAC booms, setting the stage for the Founder Succession Wave that we predicted earlier this year.
With interest rates soaring to levels not witnessed since 2007 and only just over 100 IPOs reported for the year to date (around one-tenth of 2021's total tally), the funding environment has not eased. What has this meant for Founder CEOs? We delved into the stories of 52 Founder CEOs who stepped down in the first half of 2023 to uncover the reasons behind their transitions and their next moves. Here's what we discovered:
Sometimes it's just time:
Emmett Shear, Co-Founder and former CEO of Twitch, shared his heartfelt decision: "With my first child just born, I've been reflecting on my future with Twitch. Twitch often feels to me like a child I've been raising as well. And while I will always want to be there if Twitch needs me, at 16 years old it feels to me like Twitch is ready to move out of the house and venture alone. So it is with great poignancy that I share my decision to resign from Twitch as CEO."
Twitch, the biggest name in e-sports streaming, was founded as Justin.tv in 2007 and acquired by Amazon for $970 million in 2014. Today, the company employs over 1,000 people and has close to 150 million monthly active users. A beneficiary of the creativity and growth of the easy money era, Twitch is undeniably able to stand on its own two feet.
Notably, Shear was following in the footsteps of another well-known digitally native Founder CEO who stepped down late last year. Eric Wu of Opendoor handed the reigns over to his CFO, Carrie Wheeler, sharing that: "I often say startups are like babies: they all look about the same when they're born and they're a little awkward in the beginning, but with nurturing, love and commitment, they have the chance to grow up to be unique adults. Opendoor has been my baby for the last nine years."
Other prominent brands that announced the departure of their Founder CEO this year included Uipath, RingCentral and Netflix whose iconic founder, Reed Hastings, stepped down in January with the words: "Our board has been discussing succession planning for many years – even founders need to evolve!"
Sometimes it's not a fit anymore:
Although several of the companies mentioned thus far have been publicly traded and have reached meaningful scale, Founder CEOs have also been stepping down pre-IPO, recognizing that they have neither the skillset nor the passion to drive their company to the next stage. In our sample, 10 Founder Successions were at unicorn status (i.e., $1B+ valuation), eight were at companies that had achieved a valuation of between $100 million and $1 billion and another six were at companies that did not share valuation data but that had attracted significant funding from PE growth investors.
Clearco's outgoing CEO Michele Romanow did not mince words when she stepped away from the $2 billion Toronto-based company in January pointing out that: "This is not about me having an ego and needing a certain role. I'm a growth CEO, and now we need a CEO that is very financially driven and is going to get us to the next period of break-even business."
Shipmonk's Jan Bednar was similarly honest when he announced his departure from the #1 spot in June: "As we entered 2022, I began reflecting on my journey with ShipMonk and pondering my true passions within the business. I realized that for both my personal fulfillment and ShipMonk's continued success, it was necessary for me to seek a new CEO who could take the company to the next level while allowing me to focus on what I love most within ShipMonk. I'm a builder and a creator."
Sometimes you just can't refuse:
Mergers and acquisitions or private equity buyouts – whether as a result of stagnation or a larger player protecting themselves from a hot up-and-comer – can be too enticing for shareholders to decline. These transactions often result in a refresh of the entire leadership team. Our research found that four Founder CEOs departed from companies that had been acquired by strategic players and another four from companies that had been acquired by PE.
Underperformance and unhappy boards or investors also contributed to Founder successions. Several private companies replaced their Founder CEOs following layoffs or stalled growth. Public companies also forced out Founder CEOs for poor performance with 10 of the 18 public companies in our set, having undergone a period of weak financials prior to their Founder CEO's departure, sometimes driven by activists. Notably, 70% of these underperformers were taken public via SPAC, while 100% of the public companies in our sample with planned CEO successions had gone public through traditional IPOs.
It's hard to say goodbye:
Founders are innovators and creators; they have often built their companies in their own image, and no one knows their baby better than they do. Helping them transition smoothly involves guiding them toward what comes next and how they can continue to add value, optimizing their legacy and distinguishing their identity from that of the business. In many instances this shows up as Founder CEOs transitioning to a board role – often the Board Chair. In our sample, only 9 of 52 Founder CEOs left the business when they transitioned out of the CEO seat. Twenty stepped into the Chair role, nine remained on the board, four remained as advisors and 10 stepped into other executive roles.
We are currently working with several Founder CEOs and their successors as they navigate this complex transition.
We support both the outgoing Founder CEO and the Successor CEO, identifying similarities and complementary areas to optimize their working relationship during the transition. Individualized programs enable the Founder CEO to concentrate on creating their legacy and the Successor CEO on building relationships, setting strategy and beginning to influence culture.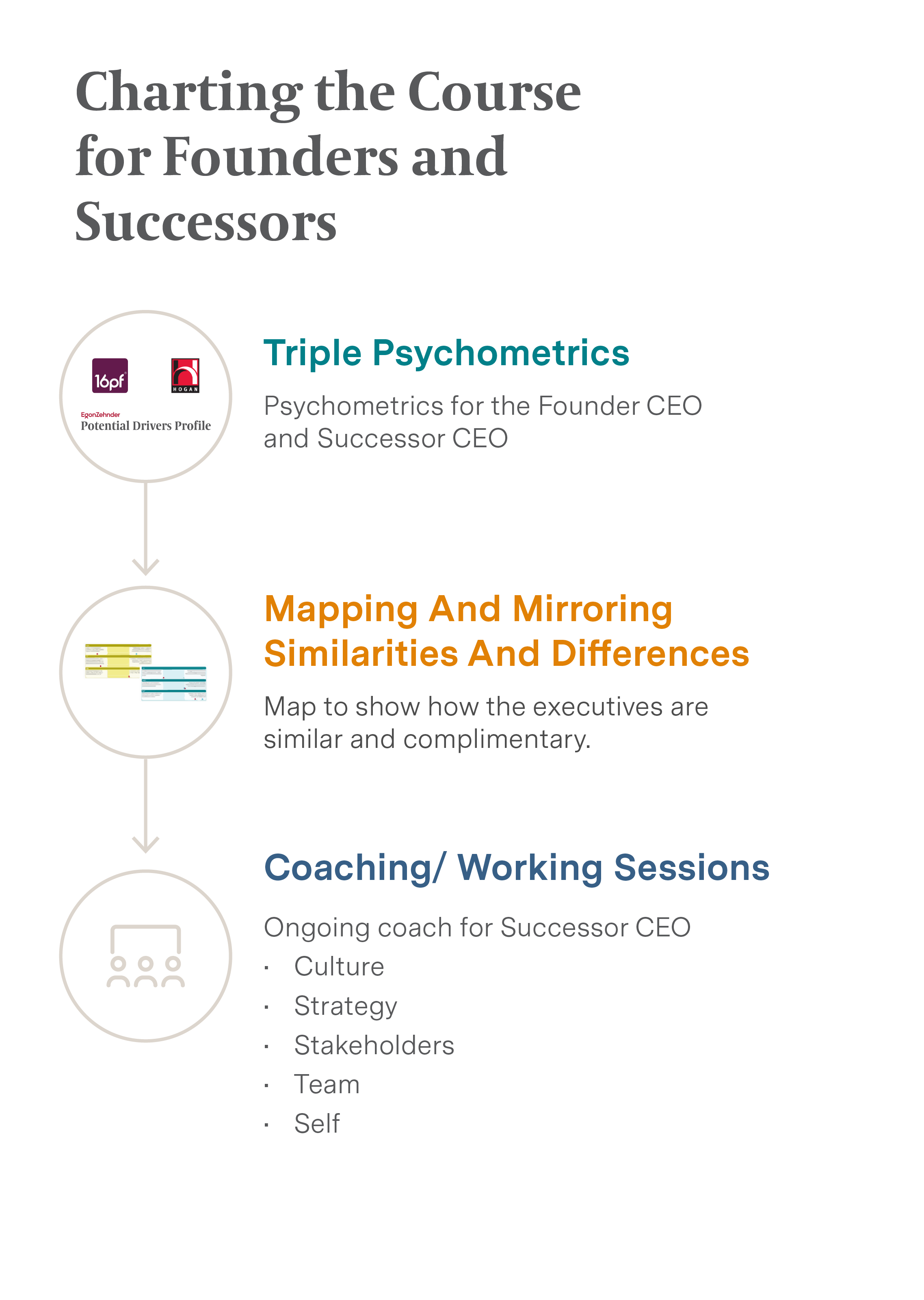 Ultimately, Founder CEO successions are intricate and emotionally charged processes. The culture, emotions and structure built over many years often mirror the vision of the Founding CEO. However, whether you are leaving as a result of a transaction because you recognize that you are not the right person for the next stage or simply because it's time your baby grew up, in the words of one of the greatest Founders of all time, Steve Jobs: "Have the courage to follow your heart and intuition. They somehow know what you truly want to become." And remember – you don't have to do it alone.