"Learning, unlearning and relearning" – the phrase that lingered in my mind from a leader whose career has spanned multiple functions and sectors. I recently had the opportunity to interview Laurent-David Charbit, Co-Head of Private Equity Nature and Biodiversity at Tikehau Capital. Our conversation highlighted to me the power of a "zig zag" career building skills, capabilities and experiences that create a strong foundation for dealing with the complexity and uncertainty we face in the world of business today.
Laurent-David Charbit's career experience spans procurement and supply chain at Michelin, consulting at McKinsey and recently at Unilever. Through the different roles, over time, he consistently pursues one underlying mission: developing a sustainability and partnership approach; especially as VP of Global Climate and Sustainability at Unilever and a Member of the Customer Advisory Board of EcoVadis, and more recently moving to his new role as Co-Head of the Private-Equity Regenerative Agriculture Fund at Tikehau Capital.
I was inspired by the simplicity and power of his belief: doing what we enjoy and building strong teams, and his motivation to make a positive and lasting impact on the world by bringing the sustainability agenda into the business day to day. According to Laurent-David, this endeavor becomes even more meaningful when shared with others, he emphasizes the importance of cooperation and working collectively for the betterment of humanity.
This interview delves into his journey as a global sustainability leader, debunks impact investing for boards, businesses and their ecosystems, as well as explores intricate dynamics of multisector collaboration in fostering sustainability solutions.
Read on for highlights from our conversation:
What sparked your interest in sustainability?
I started my career at Michelin in supply chain and later worked at McKinsey, gradually transitioning into roles that focused more on sustainability. My interest in this subject came from realizing the potential impact it has on the planet and people and the type of cross-disciplinary approach required to solve the complexity and universality of the topic. Two formative events were meeting the EcoVadis founder when they first launched their business of rating suppliers based on ESG criteria. The second one happened when joining Unilever led by Paul Polman, where I was impressed to see sustainability embedded into business at scale in day-to-day products.
How do you define your purpose?
I define my purpose by always combining exploration with exploitation in doing what I really enjoy. Mine is to connect the dots and create a large-scale impact with and for people. By connecting dots and people, we gain insights, identify opportunities, and develop innovative solutions at scale that leverage collective efforts and knowledge to drive positive change. This is what I feel engaging and good at! And, of course, it's meaningful to do that with people, for people.
What inspires you for the future?
There are two main things. The first one is to see the more balanced mindset of the new generations, who are less focused on financial wealth vs. personal development, and minimizing their negative impact on climate and nature. The second one would be when under global threat and challenges, to see our collective ability to innovate and create change rapidly at scale, thanks to technological breakthroughs and increased exposure to different cultures.
That being said, it's important to focus on what matters most and make the future possible rather than spending too much time predicting it.
You spent 12 years at Unilever. What transferable skills and experiences did you gain that you brought to your new sector?
Coming from the fast-moving consumer goods (FMCG) industry, it is a sector change indeed. At the same time, it still pertains to sustainability, but from a different angle. I see three areas that are valuable across the sectors: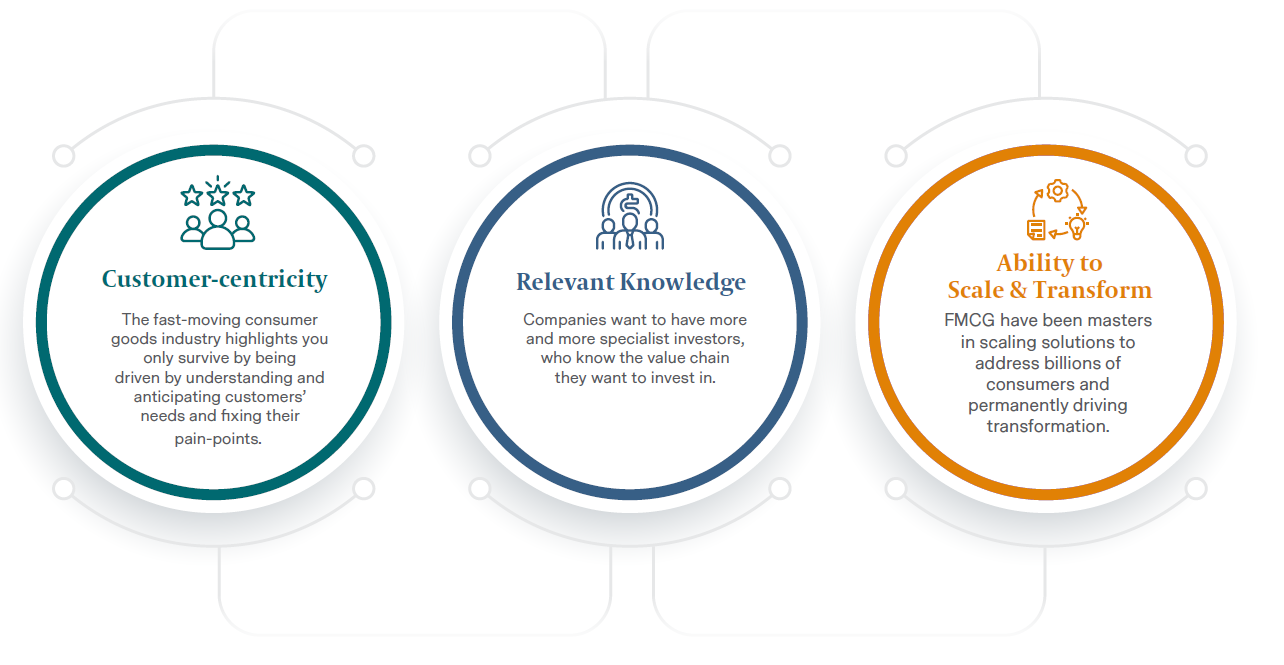 What are the key challenges in your new role and in a new sector?
I see three key challenges, one specific to the sector and the others related to managing transformation:
Lack of agricultural knowledge: Many people fail to appreciate the geopolitical and multidimensional aspects of agriculture (agriculture is much more than producing food!), despite its significant impact on carbon emissions (22% of the GHG emissions comes from the agriculture / agri-forestry sector) and employment (more than 26% of the global population is employed in the sector).

---

Building a vertically and laterally integrated ecosystem for the Regenerative Agriculture Fund: We need to bring together companies across the entire value chain, from seed to fork, and foster a space of collaboration among competitors who need to be working together.

---

Encouraging different thinking: Striking the right balance between learning, unlearning, and relearning is essential for transformative change. Overcoming siloed thinking and resistance to new ideas is crucial.
How would you describe the differences between impact investing, ESG, and Sustainability?
Impact investing refers to investments made primarily to generate positive social and environmental impact alongside financial returns. ESG (Environmental, Social, and Governance) is a framework used to assess and integrate relevant factors into investment decision-making, but it doesn't prioritize impact generation.
Sustainability is a broader concept that encompasses both impact investing and ESG considerations. It focuses on the long-term ability to meet present needs without compromising future generations, balancing economic development, social well-being, and environmental protection.
What are the most common assumptions or preconceptions about ESG/impact investing?
Investors no longer have to choose between impact and financial performance. Taking a restaurant analogy, impact investing has been seen in the past as "a la carte" when it is now on the menu. In other words, impact investing is no longer optional, and having impact or not is now widely recognized as a company asset or liability. In any case, it is an agenda point to discuss.
Investment opportunities in this field have also expanded significantly. In 2022, a Bloomberg study reported a nearly 30 percent increase in climate-related funds compared to 2021, and 40 percent of newly launched ETFs targeting climate themes focused on climate-related investments in the first quarter.
The scope of impact investing can happen in many different ways, particularly regarding natural capital. For example, the annual value of ecosystem services, such as biodiversity, is estimated at over $120 trillion, which is 50 percent higher than global GDP. However, only a fraction of this value is currently monetized. Additionally, the social dimension of impact investing is massive, as evidenced by a World Bank study showing that 40 percent of the global population earns income from agriculture, which is the largest employer worldwide. A lack of standardization and transparency in metrics and reporting is another challenge, making it difficult to evaluate investment impact or performance. Efforts towards standardization have been made through initiatives like the Global Reporting Initiative (GRI), Sustainability Accounting Standards Board (SASB), and Impact Reporting and Investment Standards (IRIS).
How does impact on ESG contribute positively/negatively toward global solutions for climate, social issues, nature, and biodiversity?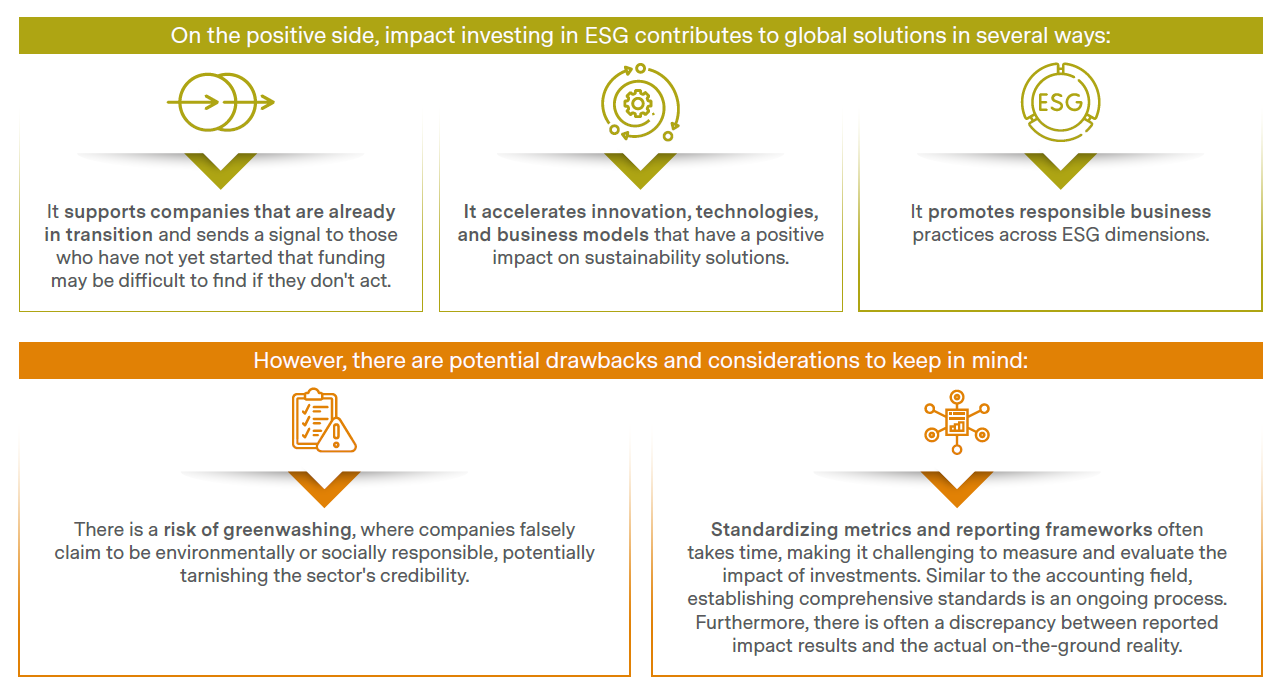 How do you see the balance between the financial sector (business), government (including regulation), and civil society in solving sustainability issues?
Maintaining a balanced interaction between the financial sector, government, and civil society is crucial in addressing sustainability and climate issues. We need tripartite inputs to make progress in these long-term and multifaceted issues. Problems are too big to be tackle by single stakeholders. We will be driving the change together or will collectively fail.
Changes often originate from civil society, bringing fresh perspectives and alternative approaches. It is important to hear their voice and understand their perspectives and train of thought. The financial and business sectors, due to their close connection with consumers, tend to pick up on these trends through their marketing teams. Government and regulations typically follow suit, establishing frameworks, standards, and financial/non-financial incentives to encourage businesses to adopt sustainable practices. Governments play a vital role in enforcing environmental regulations and compliance.
Maintaining the right balance requires fostering intense relationships through discussion forums, joint initiatives, public-private partnerships, and multi-stakeholder dialogues. Developing the right ecosystem for collaboration is essential.
What advice would you give to board members to kickstart or advance the sustainability agenda?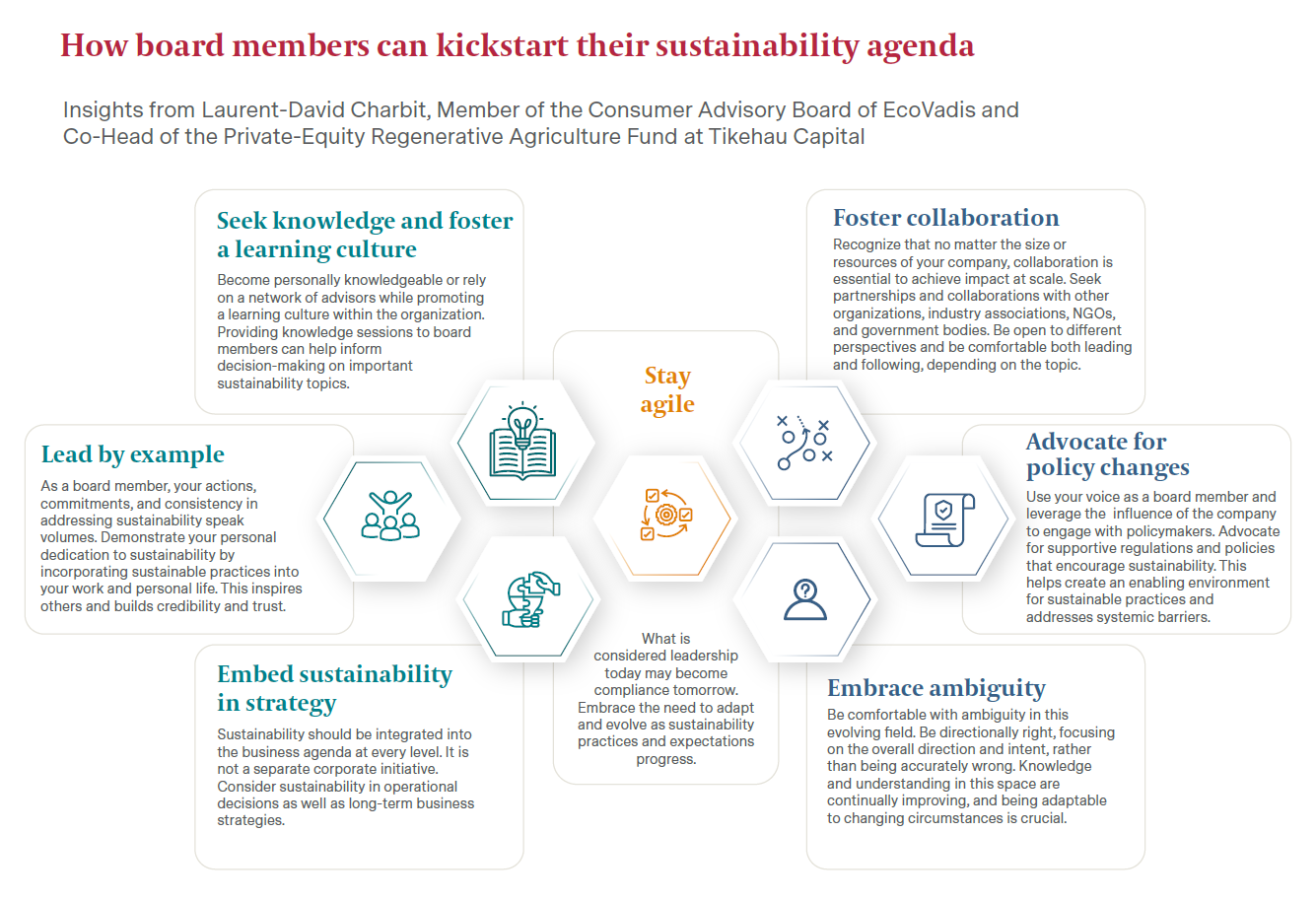 Laurent-David's move into a new sector gives him both a platform to harness the benefits of his Unilever and McKinsey experience and the space to grow and learn within the financial sector. Especially striking is his point about finding "the right balance between learning, unlearning, and relearning" to drive transformative change holds true at both a personal and organizational level.
As organizations and individuals confront the climate emergency, the challenges of learning and unlearning in highly visible leadership roles requires trust and a culture of psychological safety, which are in themselves challenging to develop and maintain. Leaders who are humble and transparent with their own learning and unlearning can create those culture where it's OK to make a mistakes, as long as you learn from it, and enable real change and innovation to flourish.