From being featured for the sixth consecutive year in Forbes's 'The World's 100 Most Powerful Women' list in 2022, to Chairing the Board of HCL Technologies Ltd., producing an Animal Planet Wildlife series and more, Roshni Nadar Malhotra has consistently leveraged her leadership influence to drive meaningful impact.
We sat down with Roshni for a conversation that left us inspired by the lessons of her unwavering resilience and perseverance that shaped her from formative years. These values propelled her to pursue her Communications and Business degrees and go beyond analyzing numbers as she stepped into a leadership position at HCL, focusing on the human aspect and placing people at the center of her leadership approach. Roshni is driven by a purpose to bring about meaningful transformation through her leadership. This is evident in her role as the chair of HCL's CSR Board Committee, where she spearheads education and livelihood programs, as well as her philanthropy work that champion impactful projects.
She holds an undergraduate degree in Communications from Northwestern University and an MBA from the Kellogg School of Management. At Kellogg, she was awarded the Dean's Distinguished Service Award.
Throughout our conversation, Roshni shares her journey to leadership, emphasizing the importance of intentionally acquiring skills to make a difference and the power of leading with purpose.
---
Reflecting on your early years, what values and experiences have fundamentally shaped you?
I have been lucky to have two inspiring, strong and ambitious role models in my parents. As an only child, they really shaped my experiences. Reflecting upon it, I have in my father, Shiv Nadar, a resilient and hardworking leader who built up HCL. In Kiran Nadar, my mother, I saw an individual who harnessed her unique talents and interests. She is a Commonwealth Games Gold Medalist, Asian games Bronze medalist, captain of her team and the only female who plays open tournament. And just this past week, at the age of 72, she made a long journey to Lahore via the Wagah border to play and win at a Bridge tournament. These experiences shape kids when they witness their parents seize life. I have picked up most of my formative values from them.
---
It sounds like those years set you up for exploration. What were you seeking and what did you discover?
My parents gave me a lot of freedom and openness to do as I wanted, perhaps a bit different from many south-Indian parents. They didn't force me to pursue engineering but implored me to see what suited my personality. While eventually my arrows turned back to HCL, my path was quite unorthodox and through a journey of self-discovery.
---
Was the interest in Communications something innate for you, or did you serendipitously chance upon it?
I chanced upon it. I went to The College of Arts and Sciences at Northwestern to pursue Economics. As part of the curriculum, there were a few classes in the School of Communications and the Medill School of Journalism which I really enjoyed and I am grateful for. In any company, it is evident that there is an abundance of skills, but effective leadership and communications often lacks. I certainly learned an important life skill there.
Play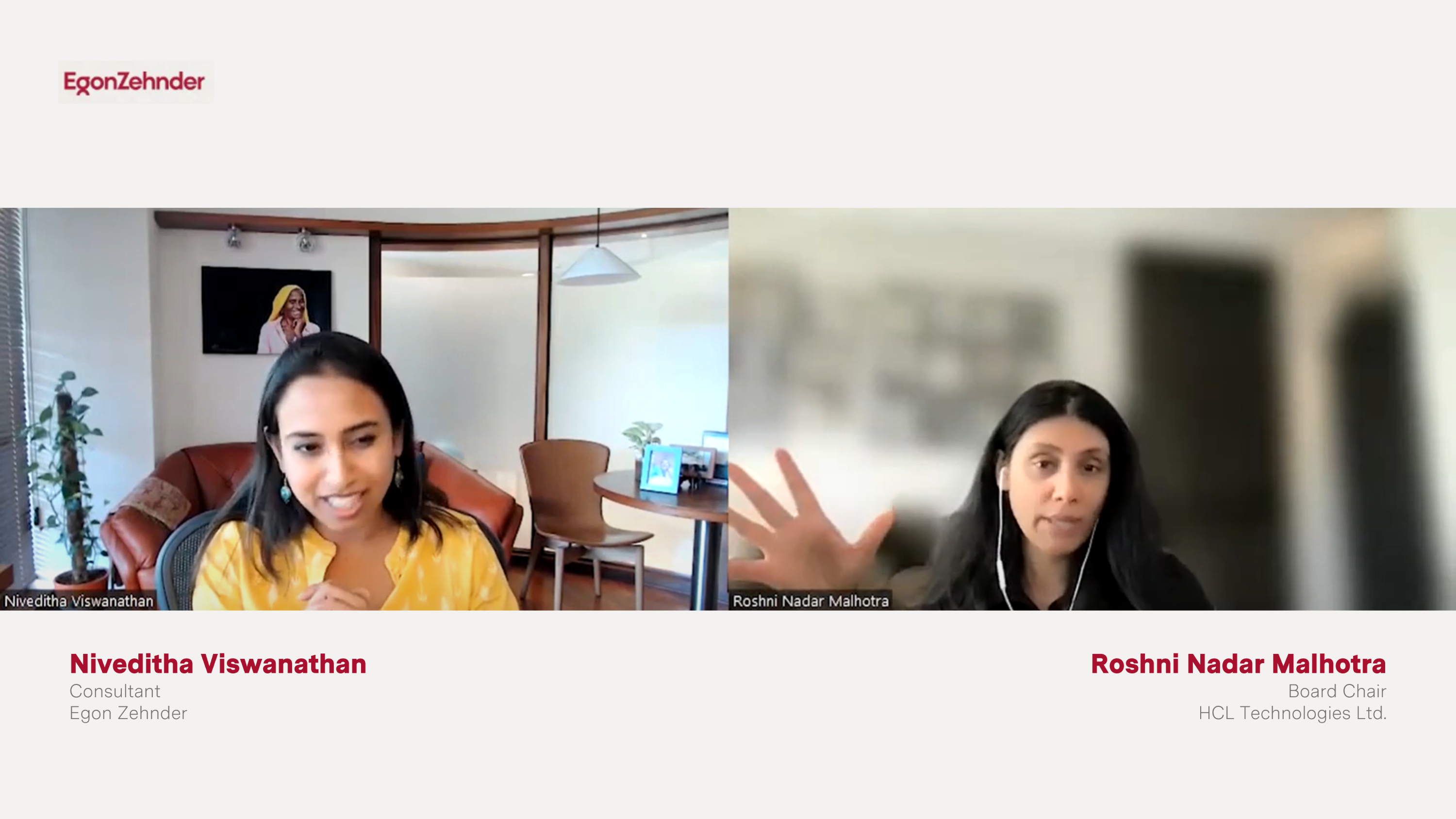 As you transitioned into a leadership position at HCL at a young age, what shaped your thinking early on in the role?
Business school was actually a good platform to leapfrog into HCL Tech. In 2007, when I was working at the SKY News in London, Shiv (Nadar) suggested I go to a business school as it would provide me with a solid foundation in business fundamentals, no matter what career choices I made. I earned my degree at the Kellogg Graduate School of Management, and it was a first for me to study finance, microeconomics, statistics etc. That experience helped me build my early understanding of business and I interned at HCL while in business school. After the MBA, when I still was curious about HCL, Shiv (Nadar) suggested that the only way to learn was to go to the deep end. The thing about growing up with my parents is that they never did anything half-heartedly. They are very passionate, and I think we are cut from the same cloth!
---
In those early leadership years, what did you find new or hard?
I am a very private person and was perhaps even a little reclusive. But to be a part of HCL and the leadership team, I had to open myself a little more. If you want people to put themselves out there and excel, you need to lead by example. Being comfortable with being uncomfortable is something I worked on and still do every day. Also, being one of the youngest in the room teaches you a lot, if you are willing to observe and learn.
---
Did you envision yourself shouldering your father's responsibilities, or did you view the role as that of another employee within the organization?
HCL has been ingrained in our household since before I was born. Both Shiv and Kiran were very hands on with the company and would often bring work home. Their colleagues would be over for meetings, and they sometimes took me to office. So, I was always around the activities related to the business.
Shiv strikes a good balance between being visionary and methodical. He believed that he didn't need me to start from the bottom because he wanted to equip me to carry on the purpose and vision. He equipped me to come into a position of responsibilities and start learning the skills I needed to know. For all our succession planning, he does that systematically, saying that "for an institution to grow, people must step in where the last person stepped off." All of us were placed into certain positions deliberately by Shiv. It has not been accidental, and it has worked.
---
Did you ever experience the challenges of being one of the few women in leadership within this prominent tech organization?
Not particularly. There was a heavy focus on the business to manage, that I wasn't thinking any other way at the time. There was basically no plan B, so Shiv and I were razor focused on making it work and getting it right. We didn't pause to think or spend our energies on much apart from getting our outcomes and impact right, from 2008, when I stepped in.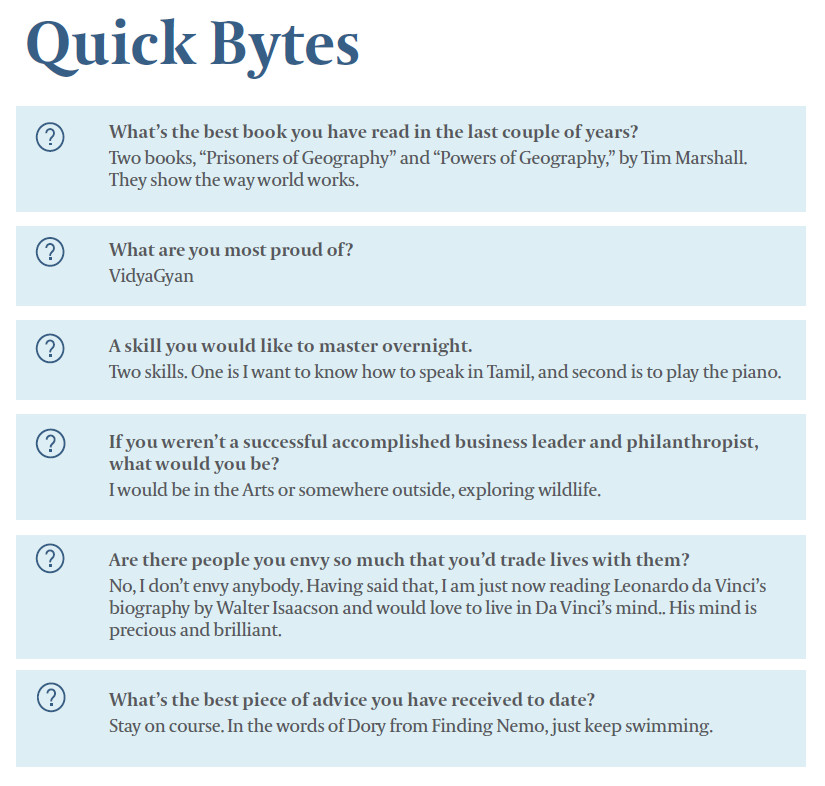 Throughout these 15 years, it's highly unlikely that everything went smoothly; there must have been moments of frustration. Are you open to embracing vulnerability?
A hundred percent. That's also a part of the school of Shiv Nadar. He is an intense, strong and yet a vulnerable person. What I have learned over the last 15 years is that it's not so much the technology; it's more about managing people and their spectrum of emotions. That to me has been the biggest focus along with building the business. It is about getting the tone of interaction and communication right.
---
As the Chair of the HCL Ltd. Board, you have the bird's eye view. What areas do you focus on, what shifts are you happy about?
I am happy about the growing discussions happening today about climate and diversity. It's encouraging to see how much of these conversations are happening on the leadership table or the Board rooms—which wasn't the case when I stepped into the board in 2012. Our biggest transformation is the number of conversations we are having on people. While conversations around technology, P&L and attrition are very important, people will always be at the core of everything. The leadership team spends a lot of time focusing on our people.
Play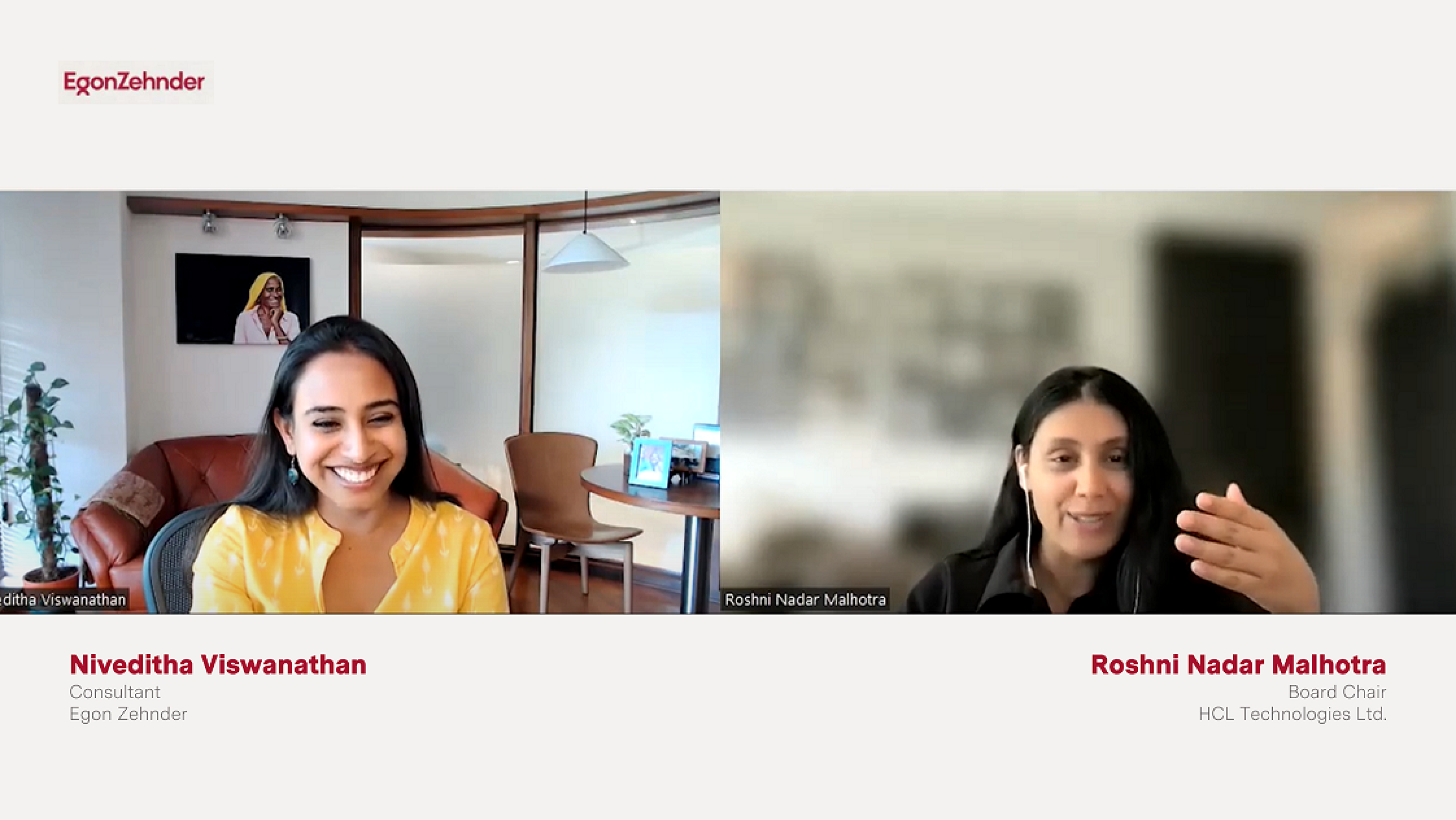 As you think about an employee-centered organization, what are you focusing on?
While we do a variety of things, there are two initiatives that I am driving personally. First is what we call our 'TechBees', where students from grade 12 come to us, and we now have around 8,000 TechBees at HCL Tech. Our program trains these students for nine months and deploys them in billable roles. They are doing as well as our other engineers! For the India TechBee program, we partnered with BITS Pilani, and these young professionals pursue their BTech degree on weekends. It's a bright and wonderful cohort, with low attrition, and they set us up for many good ideas in the future. That's the start of a cultural shift. That's the definition of an agile organization.
At HCL Corporation, I am also launching a program at the Shiv Nadar University for young female professionals to create future leaders, professionals and board members in India, focusing on the average age of 45 to 55. We need to build a workforce of women who think of themselves for a longer runway and playing various roles professionally. Just like Shiv took a chance on me, I need to take chances on these women too.
---
You are Chair of the HCL CSR Committee due to your passion about education and wildlife conservation, and you are also involved in various prestigious boards. How do you prioritize strategically with such diverse responsibilities?
I have learned from both Shiv and Kiran that you need to find passionate leaders for causes that are close to you. All these institutions, such as VidyaGyan, Habitats Trust, etc., are something I am very passionate about, but I am not skilled to lead them myself. I have skilled teams that drive them while I continue to focus on HCL front and center. The asset that I can give these institutions is resources, a few strategic instructions and funding, and then let them fly. Even if we look at philanthropy, we give our initiatives the seed capital, and ask them to make it excellent. I hope that HCL and these other institutions stand tall despite their founders and not because of them.
---
It's so vital today for the leaders to have diverse experiences. And I am sure that as you find the right people to support, you are probably also deriving some perspective back.
There are so many learnings. I am grateful for my age, since as you do get older, it becomes tougher to multi-think, let alone multi-task. There is some advantage there. And, touchwood, I hope that I have a long enough runway to see things come to fruition.
---
When wearing so many hats, there is a chance that something might give. Is there anything you wish you had done differently or want to do differently?
Probably spending more time with my kids. But I am not one of those guilty moms because my parents weren't guilty parents. Kids also learn seeing their parents. It's a part of the culture you have at home, which makes them more independent.
---
Has your experience of motherhood shifted anything in the way you approach HCL?
It certainly makes me appreciate and understand some biases acutely. Employers shouldn't think on behalf of women leaders in a patronizing way. Leaders should give the work, flexibility and deadline, and let the women show what they can do! Women also need to stop being so hard on themselves too. If both sides are open and mature, we can have many more women leaders continue to thrive.
---
How would you like the world to remember you?
I haven't done enough yet for the world to remember me, the best is yet to come.