We have it in our pockets, at home, inside our vehicles, at work. Technology is everywhere. And while such prevalence did not happen overnight, everyone is still figuring it out. Companies have grown and delivered innovation at lightning speed, but, at the same time, consumers and governments are grappling with concerns about personal information, data, cybersecurity, and more. These issues have spurred an incoming wave of regulations that can dramatically change how tech companies operate. Navigating such complexity will require leaders who can strike the right balance between regulation compliance, innovation, and growth.
Shining a Light on New Solutions
Recent measures show that oversight is looming over the tech industry from a broad set of regulators. Examples include the California Consumer Privacy Act (CCPA), enacted in 2018 to enhance user control over personal data collection, and the high-profile antitrust lawsuit the FTC filed against Meta, which is still ongoing. Federally, Congress is advancing a comprehensive antitrust bill. The acquisition by Microsoft of Activision Blizzard is yet another example of a transaction that faces regulatory considerations. With uncertainty becoming the norm, leaders who can broaden their lens and stay ahead of challenges that haven't even presented themselves yet will be better equipped to succeed. Hire new people, bring on experts, advisors, and empower your own employees to contribute to solutions.
On the flipside, tech is still perceived as an overly complex industry that is exclusive to those with coding skills. This was evident when a senator asked Mark Zuckerberg, during a 2018 congressional hearing, what was the business model of Facebook. "Senator, we run ads," the CEO explained. While legislators may have come a long way in their tech education since then, this is precisely where the opportunity lies: Leaders can liaise with regulators and translate technical concepts into easily understandable terms. Those who can do so will be uniquely positioned to help shape better regulatory outcomes for consumers and businesses.
Tech leaders can also draw inspiration from more heavily regulated industries, which offer a glimpse of hope that regulation doesn't have to stall innovation. Take the pharmaceutical and biotech industries as an example. They brought to market, in record time, an effective Covid-19 vaccine while complying with trial and safety threshold requirements.
Adding Potential and Humility to the Tech Leader Toolkit
Compliance doesn't have to be a "dirty" word. If the tech leader mandate was once "be creative, be ingenious, and don't worry if you break rules along the way," reality calls for those who subscribe to the rules to bring their creativity, adaptability, and humility to a field that is inventive by nature. That may include searching for talent in oil and gas, pharma, financial services—leaders who can infuse their diverse experience and add a fresh perspective to tech, whether it is in the C-Suite or in the boardroom.
But how can companies know if they are well-equipped with the talent they need? One resource is Egon Zehnder's Potential Model, a multidimensional assessment framework that uncovers leaders' degrees of determination, insights, curiosity, and engagement—a starting point for holistic development, both personal and professional, that is closely aligned with an organization's strategy for the long run.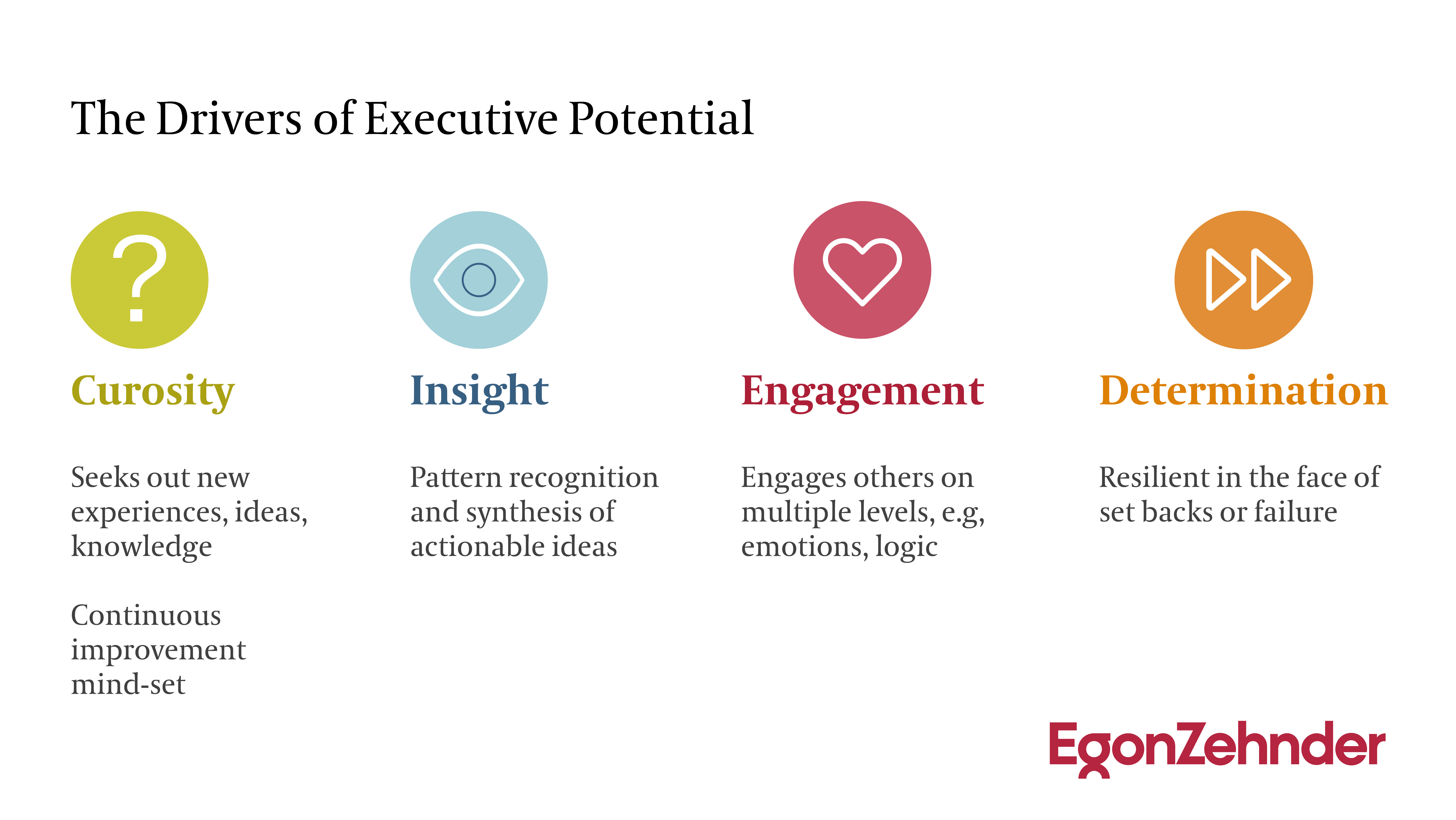 Traditionally, the tech CEO has typically employed a "winner takes all" strategy. Now, CEOs will have to draw on potential and be more balanced, attuned to products and markets, but also to the legislative landscape. That means embracing a level of humility and displaying a willingness to extend a hand to legislators and policymakers as opposed to pushing them away. While previous CEOs might have punted interaction with legislators off to operations, legal, or general counsel, they now will have to be more personally engaged and address concerns from both consumers and legislators. For publicly traded companies, this already happens at some level. However, embracing reality is part of every CEO's job.
Technology will only become bigger and more significant, and we are getting closer to a regulation tipping point in the United States. And just like ESG and DEI have gained momentum in recent years, embedded as strategic corporate pillars, there isn't much time for A/B testing when it comes to compliance. To ensure a trajectory of business growth and innovation, leaders must treat it with the urgency and priority it calls for.