History hasn't necessarily favored the marketer when it comes to C-suite hierarchy. While talented marketing leaders are occasionally considered for internal CEO succession, external searches largely focus on other C-suite titles. As a result, not only do companies fail to fully benefit from the unique capabilities of qualified CMOs, they also miss out on a diverse pool of candidates.
The CMO role and marketing function are some of the most gender-diverse in business especially compared to the function that has most often been tapped for the CEO seat, the CFO. According to our bi-annual Global Board Diversity study, women hold only 13.6% of CFO roles in the U.S. That contributes to the even more grim CEO statistics with women holding only 4.7% of the positions. Contrast these figures with statistics from this year's Fortune 100 where nearly 50% of CMOs on the list are women.
Clearly, the pipeline of female CEOs must be strengthened. But the good news is, businesses need to look no further than the marketing function.
More validation of CMO-to-CEO transitions
While COOs or CFOs, who typically oversee P&Ls across industries, are considered the traditional or safe choices for CEO succession and search, CMOs make ideal candidates for several compelling reasons – in addition to their gender diversity.

1. Excelling in Change Leadership
With a constant focus on people — attitudes, behaviors and what drives them — CMOs are well-equipped to handle cultural change in the CEO suite, an area where we find current CEOs often struggle.
An Egon Zehnder study comparing outstanding CMOs to those with the same distinction in COO, CHRO, CFO and CEO roles found that across factors — ranging from team leadership to change leadership — CMOs exceed their executive team members and most closely align with CEO leadership qualities.
In fact, CMOs and CEOs perform equally when it comes to change leadership.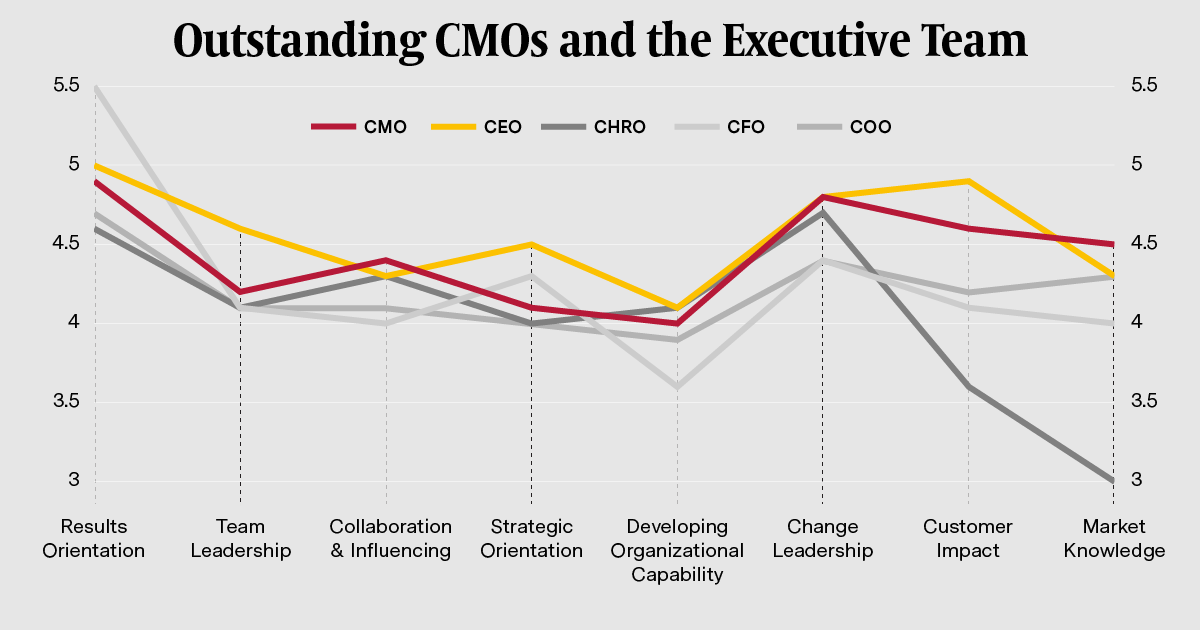 This means, when we look at the ability to transform, align and energize an organization, CMOs and CEOs are equally effective leaders. All businesses are in the midst of transformation, so the ability of the chief executive to drive change through people and align an organization on a new direction should be a top consideration.

2. A Focus on the Customer
We are fully immersed in the customer-centric, experience economy, where considerations have shifted from broad to focused. That means marketing principles must now align with overall business strategies.
As noted in the above graph, the other competency that CMOs beat their fellow peers in the C-suite is Customer Impact. The best marketers not only meet the needs of the customer faster, they are well-versed in anticipating those needs — the very recipe for competitive edge in today's business world. Boards who need to infuse customer experience across the entire organization should tap marketers to bring this strategy to life.

3. All about the Data
While customers are at the center of business decisions today, those decisions must be backed by data. For marketers, this is not a new approach. Marketing has always been a delicate balance of art and science with data as a core component.
In fact, modern CMOs are not just comfortable with data, they live and breathe it. CEOs who want to infuse such data mindedness across their organizations should leverage their marketing leaders who have been fighting this battle for the last decade.
As innovation becomes more critical to the business, marketers who have married data insight with strategic thinking for years are well-poised to take leadership positions where they can apply the value of their experiences.
Give marketers the P&L control they deserve
One of the challenges holding CMOs across industries from elevating to the CEO role is lack of P&L ownership. However, we know that CMOs are certainly capable of running P&Ls, as we've seen in CPG companies where they've been harnessing great, diverse, customer-centric talent to run big P&Ls for decades.
My colleague Cynthia Soledad, who runs Egon Zehnder's Diversity and Inclusion practice, sees a variety of consumer companies focused not only on leadership development but marry that with diversity strategies because they recognize that the buyer is a diverse population.
She says: "Having leadership teams reflect the diversity of the buyer has always been important to CPG companies, which is why marketing titles are often given more weight compared to other industries."
I'd argue that more industries and companies should open P&L experience to marketing leaders.
The bottom line
From diversity, customer-centric and data-driven mindsets to their ability to successfully drive change, it's evident that CMOs have all the attributes to make ideal CEO candidates…we just need to develop them for it. And we have proof that it can work across industries, with examples of successful marketer-to-CEO transitions. Leaders like former Intuit CEO Brad Smith (marketing background with ADP, ADVO and Pepsi), Chip Bergh of Levi Strauss (former marketer at P&G) and Rodan + Fields CEO Diane Dietz (CMO at Safeway) have all risen to success largely due to the skills developed and perfected as marketers.
Changing the future for CMOs will change the future of business and positively impact the bottom line.