The UK and Europe set clear targets on gender diversity in boardrooms, and this shows in the gender representation statistics today. The opposite is true on ethnicity. On the other hand, the United States has acted with greater decisiveness on the ethnicity agenda, while most UK companies only began tackling this topic recently, and most continental European companies have just about begun to organize themselves to respond to it.
About 10.4 percent of the Russell 3000 (including S&P 500) board members in the United States are ethnically diverse, of which 4.1 percent are Black, 2.9 percent Asian, 1.8 percent Hispanic/Latinx, and 1.6 percent belong to other ethnicities, according to ISS Analytics. Egon Zehnder observes that efforts toward greater ethnic representation in U.S. boardrooms are already more precise (e.g., focusing on Hispanic/Latinx and Black representation), due to the severe underrepresentation of those ethnic groups compared to the general population.
Ethnicity Statistics on FTSE 350 Boards: 6 Gaps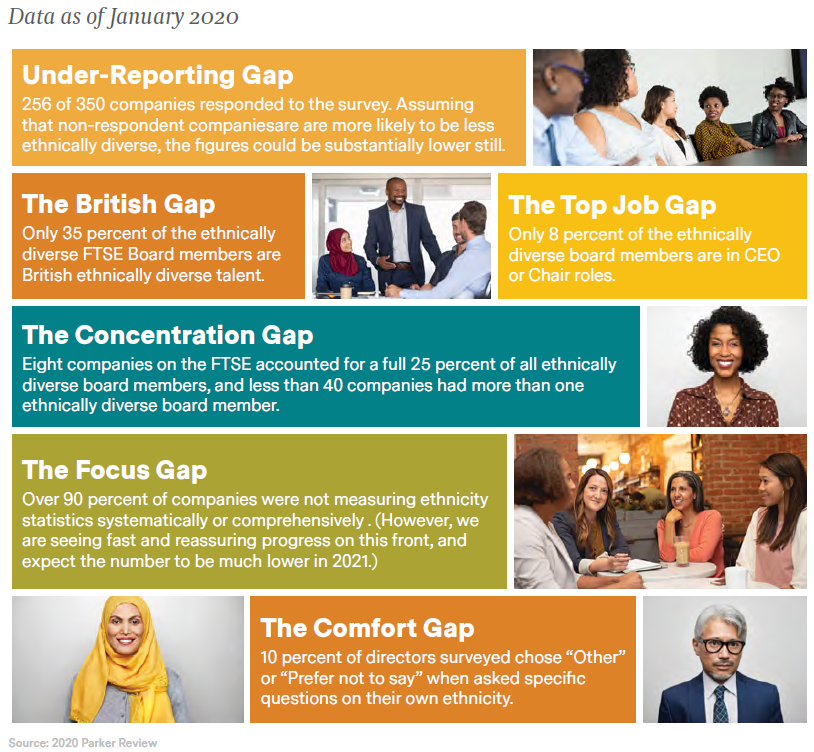 Corresponding figures for FTSE 350 (FTSE 100 + FTSE 250) from the 2020 Parker review put the ethnic representation at less than 7 percent. The already low numbers hide within them at least six gaps.
The Parker Review recommends that every FTSE 100 board have at least one ethnically diverse board member by 2021, and the same on the FTSE 250 by 2024. What this means in practice is there needs to be up to 50 ethnically diverse board appointments by 2021 on the FTSE 100 and up to 200 ethnically diverse board appointments by 2024 for the FTSE 250.
We have gone further than the board level and analyzed ethnicity statistics at Board and Executive committee level for all of the FTSE 350 companies.
Although companies should continue to search internationally for great talent to join their boards and senior management ranks, there is an under-appreciation of how much "board ready" or "nearly ready" ethnically diverse talent is out there at FTSE 350 executive committee level already.
Ethnicity Statistics for FTSE 350: Board & Executive Committee Level